Three Italian jewellery brands now tempt you from Dubai Mall!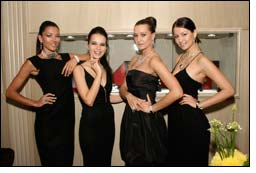 The DIT Group, the world renowned Italian jewellery house made up of three celebrated jewellery brands, Io Si, Porrati and Nouvelle Bague has recently opened the Damas Italia Boutique – DIT Group at Dubai Mall. The luxury group which was founded at the beginning of 2007 is the visionary outcome of Tawhid Abdullah, distinguished Managing Director, Damas Jewellery and Ilaria Furlotti, CEO, DIT Group who has a personal and professional background, making her one of the key players in the contemporary luxury field. And while each of the well known Italian brands is defined by a signature identity of its own, they together affirm the highest values of Italian leadership in design, research and style.

The DIT Group entered the booming UAE jewellery market by offering its high-end brands through Damas' vast retail network. Its three jewellery brands share thoughts and passion that reinforce their different identities, representing a union of values and a strong organization. The Italian Group is highly regarded for its wealth of knowledge in the contemporary luxury sector and is presently carried by 600 stockists across 30 countries worldwide.

"We are extremely happy to announce the opening of Damas Italia Boutique – DIT Group's new store at one of the city's most popular new shopping destinations, Dubai Mall. Since time immemorial, Italian design has continued to impact and enrich the world of art and culture. Recognizing this unique aspect the DIT Group was formed to bring together top brands whose collections meet the highest design and manufacturing standards. It is well known that the UAE is the world's largest market for Italian gold jewellery annually, a further index to its popularity among discerning jewellery lovers," said Mr. Tawhid Abdullah, Managing Director, Damas Jewellery.

"The DIT Group's progress and growth is propelled by the huge demand in the region for Italian designs. We have always urged our craftsmen to come up with new ways to translate the most demanding and complicated designs of our visionary designers instead of altering them. In fact all our brands have expanded their collections this season to present new and exciting arrays and we take the opportunity to extend a warm welcome to one and all to our well appointed store at Dubai Mall," said Mrs. Ilaria Furlotti, CEO DIT Group.

A triumphant trio
Io Si: Modern architecture forms the inspiration for this brand whose designs unveil a paradise of jewels designed to enable a woman to celebrate her feminine essence. It was founded in Milan in 2000 by Fulvio Maria Scavia. Its popular collections include Baccarat, Dionea and Rosier which offers stylized versions of the most romantic blossom, rose in riveting brooches. Its Afrodite line presents swirling patterns inspired by ancient Greek architecture in white gold and pave diamonds brooches and earrings.

Porrati: Said to be one of the most favourite and much loved brands of the region, due to the distinct Middle East flavour of its designs, Porrati's jewels are delicate, charming and utterly feminine, touching the very height of fashion. The brand opened its worldwide flagship store in Dubai. Its captivating Caracol collection is for the youthful and celebrates freedom blending white, yellow and red gold with diamonds and a rich assortment of semi-precious stones. While its Fashion collection is inspired by women who live life to the fullest.