CA-based shoe retailer adds new line of OluKai sandals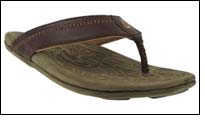 Spring is here and as the weather warms up women and men will be out shopping for a new pair of flip flops. Enter OluKai. Hawaiian based OluKai sandals provide a high quality sandal with amazing arch support and cushion. California based Footwear etc. is the newest retailer to add OluKai sandals to their product mix. Footwear etc. has already taken delivery of over 20 styles and the response so far is very positive.

Olukai Sandals are not your average flip flop. They provide unparalleled durability, support and stability. Once a customer slips a pair of these premium sandals onto their feet they will not want to take them off. This story is repeated daily with each customer who gets to try a pair on. Andrew Monarch, manager of Footwear etc.'s San Diego location in Little Italy "can't believe the customers excitement when they try a pair of OluKai sandals on for the first time. It's as if they just won the lottery!"

These high quality sandals are available for women and men in a variety of styles and colors. Be sure to check out these best selling OluKai styles including the Kumu, Mahana, Hiapo and Ohana. OluKai Sandals are available at Footwear etc.'s 8 California locations in Palo Alto, Cupertino, San Jose, San Carlos, Los Altos, San Mateo, Rancho Bernardo and San Diego.

Footwear etc.