Evening Sale of Watches to come with Spring Auction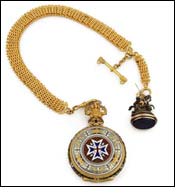 Sotheby's forthcoming Evening Sale of Watches, to be held in Geneva, will take place on Sunday, May 10th, 2009 in the premises of the Beau-Rivage Hotel. To be offered this season – in addition to the historically important watch most probably made for King Ludwig II of Bavaria – will be outstanding pocket watches with high quality enamel cases by Isaac Gravelle and George Prior; an exceptional and rare Cartier "Mystery Clock"; and fine examples of vintage and modern wristwatches by the most renowned watch making companies, such as Patek Philippe, Rolex, A. Lange & Söhne to name but a few.

Geoffroy Ader, Head of Watches, Sotheby's Geneva, said: "Comprising around 170 lots, our forthcoming spring watch auction in Geneva will include a well curated selection of fine and exceptional timepieces dating from the 16th century to the present. We are especially delighted to offer a gold, enamel and diamond presentation watch which was most probably made for Ludwig II of Bavaria, the legendary King who commissioned the fantasy castle of Neuschwanstein".

KING LUDWIG II OF BAVARIA WATCH
One of the highlights of the sale is a very rare and historically important gold enamel and diamond presentation watch with matching chain and fob seal, most probably made for King Ludwig II of Bavaria, circa 1880. Symbolising the Royal Military Order of Saint George, this exceptional timepiece is estimated at CHF30,000-50,000 / $27,000-44,000 / € 20,000-30,000.

Founded by Karl Albrecht, Elector of Bavaria, in 1729, the Royal Military Order of Saint George received the following official title: Order of the Holy Knight and Martyr Saint George and the Immaculate Conception of the Holy Virgin Mary. After various changes in Bavarian history, Ludwig I declared that the King would be the Order Grand Master with the Crown Prince as the first Grand Prior and the other Princes of the Bavarian Royal House second Grand Priors of the Order. Most probably Ludwig II paid tribute to that tradition by ordering the present watch. Enamelled on both sides, it is decorated on the back with a scene of the Virgin Mary standing on a crescent moon.

Born in Nymphenburg Palace, near Munich, on August 25, 1845, Ludwig was the eldest son of Maximilian II of Bavaria and Princess Marie of Prussia. He had just turned 18 when he ascended the Bavarian throne after his father's death. Although he was not entirely prepared for his new role, his youth and good looks made him popular in Bavaria and above the Kingdom borders. One of the first acts of his reign was to invite Richard Wagner to his court in Munich.

If Ludwig II is still well known today for patronizing the great composer, he is also very famous for the commission and the construction of several extravagant fantasy castles: Neuschwanstein – a dramatic Romanesque fortress with soaring fairy-tale towers whose walls are decorated with frescos depicting scenes from Wagner's operas; Linderhof – an ornate palace in neo-French Rococo style with handsome formal gardens; and Herrenchiemsee – a replica of the main building of Versailles Palace.