Visitors at Bride Show to expect outlandish & fancy products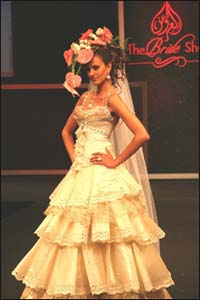 The Bride Show Dubai opens with an exclusive range of local and international exhibitors, a fashion competition and daily catwalk shows, making it a must attend event for fashionistas, brides-to-be and her family.

The Bride Show Dubai offers everything and anything bridal, with a diverse collection of exhibitors displaying a vast range of products and services a woman could possibly dream of for her wedding.

But the event is not just for women planning their nuptials – with haute couture fashion, beauty products, health and wellbeing services and home interiors, as well as a new Men's Lounge featuring Nintendo Wii games, and a children's area provided by Peekaboo Crèche, the show offers something for everyone.

Visitors to The Bride Show Dubai have come to expect outlandish and innovative products that they may never have heard of before. This year will not disappoint, as the event hosts the public launches of a prenuptial Placenta-Diamond facial from Biolite Skin Clinic and Bling H2O, the world's first ultra-luxury mineral water in a bottle encrusted with 10,000 Swarovski crystals.

This year's edition also introduces a host of new exhibitors and features that will excite visitors of all backgrounds and ages. The Inspiration Zone is an area dedicated to giving visitors an insight into hair and make up techniques, beauty makeovers, flower arranging ideas and jewellery making classes by CRYSTALLIZED - Swarovski Elements.

The Inspiration Zone will be a good place to spot Joelle Mardinian, the popular television host of MBC's 'Be Saraha Kteer Ahla' and 'Joelle', who will be doing demonstrations of hair and make up. One lucky visitor will experience Joelle's signature transformative makeover, filmed live from the Inspiration Zone by MBC for her show "Joelle".

The Bride Show Dubai offers members of the public their only opportunity to get a front row seat at haute couture catwalk events and is the largest fashion event in the region with 19 fashion shows from top local and international haute couturiers.

Ines Di Santo, one of Canada's most renowned designers, in the UAE and at The Bride Show Dubai for the first time, will open the fashion shows on Wednesday 8 April with her collection of original haute couture wedding dresses and evening gowns. Also new to the event and showing on the opening day is First Mode, a local design house showing exquisite evening wear.

Three long standing crowd favourites will also take to the runway on the opening day. Arabesque will show their latest collection of Abayas and Sheilas, followed by evening wear from Arushi and bridal wear from Demetrios.

Visitors are advised to ramp up their own personal style stakes as the competition for Best Dressed Visitor is launched. Image Factor, the London and Dubai-based style and shopping consultancy, will be on hand throughout the exhibition to evaluate the personal style of visitors and the visitor they deem to be best dressed will receive one night's complimentary stay in the Bridal Suite of the Crowne Plaza Dubai.