JAM Cologne with new menswear platform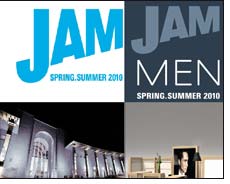 After the great success of the last JAM event that welcomed 370 exhibitors and just under 10,500 visitors the second phase of expansion for the exhibition concept is now to follow. The portfolio of segments exhibited so far (denim, sportswear, streetwear, young fashion and accessoires) will be extended to include menswear exhibitors as early as at the forthcoming event in July 2009.

A high-quality stand system has been especially developed for this new JAM.MEN segment that can be geared to exhibitors' individual needs. The compact package and stand concept come complete with furnishings, clothing rails and service elements. Although all features are included in the square-metre price the concept provides freedom for a personalised presentation at the fair and costs are easy to calculate. With a choice of different modules measuring between 20 m² and 100 m2 every exhibitor will find an ideal platform at a square metre price of between € 175 and € 187 incl. the aforementioned features.

Explaining how this concept evolved, Sebastian Klinder, partner of the organizing munich fabric start exhibitions GmbH, said: "When we started developing this concept for JAM a good two years ago we had already given a lot of thought to further steps for expansion. We wanted to wait for the new trade fair at the interface between denim and sportswear to become established and well positioned before venturing forth into further segments of the market. Many sector representatives approached us lamenting menswear's current lack of effective "homebase" in the German exhibition landscape. We intend to change this with JAM.MEN."

Board Chairman at Kölnmesse GmbH Gerald Böse endorsed the trade fair organisers' expansionary approach: "I truly welcome the JAM organisers' plans to enhance their exhibition format with menswear since they are following on from decades of menswear tradition at the Cologne exhibition venue."

CPD's announcement about its future exclusive focus on womenswear also confirms the organisers' moves to make inroads into the menswear segment. At the same time, various market analysts and studies forecast constant to rising demand for this new mix of denim, casualwear, street fashion plus young, high-fashion men's formal wear in the medium term. The fashion sportswear segment for adults, for example, is expected to account for up to 50% of men's fashion sales over the next few years.

Likewise, high-fashion slim-fit and casual shirts as well as relaxed cotton flat-front pants have become a standard and key component in the relevant store departments. And this is precisely the buyers (e.g. P+C, Hirmer, Konen) that JAM.MEN targets with its extension of ranges and the zeitgeist-driven stand concept.

Interested exhibitors can have a foretaste of what lies ahead in an exciting environment, Cologne's historic Rheinparkhallen exhibition halls, which have been renovated to the highest technical level. By prior arrangement trade fair organisers will be happy to present the first sample exhibition stands at the trade fair location where they will be available for discussing exhibitors' suggestions.