Levi's Curves style for women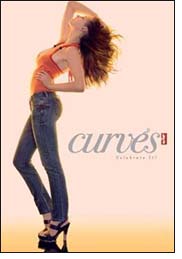 Girls with curves, the Levi's Red Tab collection has something new for you. Curves, as the name suggests, has been specially designed for girls who love their shapely forms, offering jeans and tops that celebrate their curvy silhouettes and the Levi's brand youthful confident style.

The low-rise jeans come with a new round-top block that fits snuggly on the butt and hips. Whether it's the slim, straight or bootcut, the jean follows the shape of the body and delivers an understated sexiness, while living up to the brand's leadership in fit and comfort.

Available in both stretch and non-stretch versions, the mid to dark finishes for this collection range from the subtle worn-in look to broken-in washes inspired by 'vintage finishing'. Against the washes, the mix of bold and fine stitching in shades of orange and yellow jumps out as an interesting detailing contrast.

When paired with tees or jerseys from the Levi's Red Tab collection, the girls will have every reason to look good while celebrating their gorgeous curves.

Curves – The Campaign
The Curves range will be supported by an in-store retail campaign that celebrates its launch. Developed by advertising agency OgilvyOne, the campaign takes a straightforward approach to delivering the look and feel of the range.

The concept name 'Curves' has been created in free-form font as a reflection of the beauty of curves; while the successful photographer duo Chuan Do and Frey were tasked to shoot this campaign. The final shots of the talent effortlessly displays her curvy form - true to the message of the campaign and the capability of the collection.

The Levi's Curves collection, along with the Levi's Red Tab Spring/Summer 2009 line, is now available in all Levi's Stores.

Levi Strauss & Co.