Justine Simmons returns to HSN with new spring collection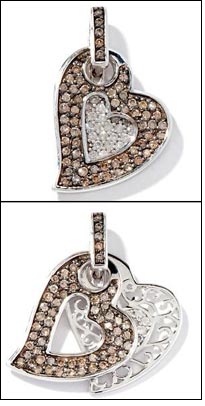 Justine Simmons returns to HSN with her new spring collection from Brown Sugar by Justine Simmons. The collection ranges from a Brown Sugar Crystal Bezel Chocolate-tone Watch to Brown Sugar Brown and White Heart Enhancer. And, Justine surprises fans with her first venture beyond jewelry, a Brown Sugar Crystal Travel Atomizer.

Justine Simmons, most famously known as the sweet and pious matriarch on the #1 rated MTV reality series, Run's House, decided to apply her talents of sketching jewelry into designing an entire collection of rings, pendants, earrings, and more thus the Brown Sugar collection was born. Produced and manufactured by the family's jewelry company Simmons Jewelry Co., this will be Justine Simmons's second Brown Sugar collection.

Tune-in Friday, April 10th at 8 pm and Saturday, April 11th at 2 am for the unveiling of Brown Sugar by Justine Simmons spring collection (check local channel listings, all times ET).

Simmons Jewelry Co.