Kamal Gupta joins Carlton Overseas as CEO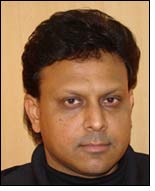 Carlton Overseas Pvt. Ltd., the Exporters, Manufacturer, Retailer, & Distributor of Europe's latest fashionable footwear and accessories conglomerate Carlton Shoes Ltd., announced the appointment of Mr. Kamal Gupta as Chief Executive Officer, with immediate effect. Mr. Gupta brings more than 16 years of experience in retail, operations, distribution & merchandising to Carlton, having recently served as Vice President – Retail, Lilliput Kidwear Ltd.

Mr. Gupta (41 years), will be based in the company's corporate office in Gurgaon and will oversee Carlton's India Operations predominantly exports to business buyers in UK and expansion of retail & distribution in India. He will be instrumental in the expansion of Carlton retail chain across the country.

"We are delighted to welcome Mr. Gupta to Carlton. With his appointment, we are in an even stronger position to deliver on our objective of strengthening our foothold in India", said Mr. Carl Virk, Director. He added, "Mr. Gupta has a proven track record along with a depth of experience in operation and retail that will be invaluable in helping Carlton to achieve its business objectives."

Mr. Kamal Gupta stated, "I am looking forward to my new role and challenges associated with it. With the support of experienced board of directors and my new colleagues, I will be able to lead Carlton achieve its full potential as one of the key players in the footwear & accessories industry. My primary focus over the coming months will be setting up new outlets in different parts of the country, leading to increase in revenue share which would further help in our expansion process."

Prior to his appointment, Mr. Gupta spent 2 years as the VP – Retail, Lilliput Kidswear Ltd, the leaders in the Indian branded Kidswear segment. He started his Career with Brand Woodland and also worked with brands like Nike and Puma. Mr. Kamal Gupta earned a degree of M.Sc. Nuclear Physics from Jammu University in 1989 and completed his MBA in Marketing from Pune University in 1993.

Carlton Overseas Pvt. Ltd.