JOOP! opens flagship store in Hamburg's Neuer Wall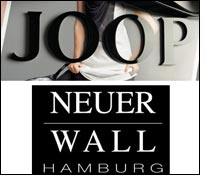 Fashion label JOOP! opened its new branch at the Neuer Wall in Hamburg in March 2009. Developed by creative director Dirk Schönberger in collaboration with Canadian design team burdifilek, which is renowned worldwide for international shop design, the JOOP! store design bears the fashion house's unmistakeable hallmark.

The range extends across two floors and, on 782 m², covers the full variety of products from the JOOP! label, from Women's and Men's Firstline, the jeans collections for women and men, through bags, shoes to watches and jewellery. On its ground floor, the store boasts a surface area of 575 m² for Firstline and Jeans Women, and a further 207 m² are available on the canal-level floor where JOOP! Jeans Men is on show.

The modern interior is characterised by superb materials featuring clear structures. An architectonic match for the JOOP! design is created by floors of granite, wood with a whitewashed wengé look and details carved in metal surfaces in various finishes. Generous floor surfaces are subdivided by means of intricately imprinted glass partitions featuring elements in mirror optics and make an extraordinary shopping experience a sure-fire certainty.

JOOP! carries its products worldwide in its own stores and franchise businesses, shop-in-shop systems and at leading retailers. In Germany, JOOP! has a store in Düsseldorf in addition to the new branch in Hamburg. Additional locations are in the planning.
Top-class guests from the worlds of fashion, film, music, retail and business were invited to the opening party on 26th March.

The special guest that evening was Paris-based Berlin exile DJ Fetisch. He is the founder of the label Terranova, a symbiosis of electro and hip hop, which he founded on his return from New York in 1989. With further projects such as Lottergirls and Lotterboys he continues to combine various music styles in his own inimitable way and is thus always in tune with the times.

JOOP!