Oakley releases Jawbone Performance Eyewear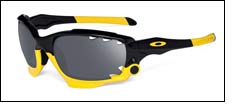 Oakley Inc announced the release of Jawbone, an innovative performance sunglass that combines the clarity and protection of the company's High Definition Optics (HDO) with a revolutionary new frame architecture that allows for quick and easy lens changing. Professional athletes who have tested Oakley's patent-pending invention are praising its performance, style, comfort and convenience.

"Jawbone is a milestone in technology, a true breakthrough that provides athletes with an invaluable performance tool," said Colin Baden, president of Oakley. "The world's best athletes depend on Oakley optical innovation in a full range of light conditions and environments. We combined HDO clarity and protection with a new SwitchLock Technology that lets sports professionals change lenses fast with minimal handling and optimal convenience. This is definitely a game changer when it comes to performance." Baden concluded.

Lance Armstrong took advantage of Jawbone in the recent Tour of California and plans to utilize it in the upcoming Giro and Tour de France. "This is exactly what I expect from Oakley -- more than just a new benchmark," said Armstrong. "Jawbone gives me the performance, fit and styling I have come to expect from Oakley for over 20 years now. The simple lens changing lets me match my vision to racing conditions with ease."

Oakley plans to release a LIVESTRONG special edition of Jawbone to aid the Lance Armstrong Foundation and its ongoing mission to inspire and empower people affected by cancer, adding to the collection of LIVESTRONG eyewear in its product line.

Utilizing Oakley's new SwitchLock Technology, the lower part of the frame rim opens to allow easy access for quick lens changing, letting the wearer optimize performance in any light condition. The design holds the lenses with a suspension system so stresses on the frame do not affect the optics.

With ordinary sunglasses, flexing of the frame can change the surface contours of the lenses, causing optical distortion. This new architecture ensures there is nothing to diminish the unbeatable clarity of the optics, and the wearer still enjoys the optimized comfort and fit of a flexible frame design.

Oakley engineered the pivoting frame system with a release mechanism that lets the wearer remove and replace the nose piece with a different size to customize the fit. The company engineered specialized bridge geometry and strategically placed flex zones, enhancements that give the frame a broad range of flexibility while directing stresses away from the lenses.

Jawbone also comes with patented XYZ Optics, Unobtainium components that increase grip with perspiration, and Oakley Hydrophobic -- a permanent lens coating that repels dust, water, skin oils and lotions. The lenses filter out 100% of all UV, and even with a comfortably lightweight design, the sunglass offers impact protection that meets ANSI Z87.1 standards.

Professional athletes were used in testing phases of the new Jawbone eyewear. Champion mountain biker Brian Lopes called the comfort and protection "second to none" while Ironman Chris Lieto said the design is "revolutionary in function and style."