Damas spreads its golden glow at Aswaaq Mall!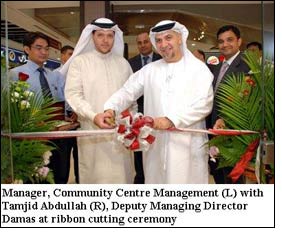 Damas recently opened a new store at aswaaq Mall in the Al Mizhar Community Centre in Mirdiff, infusing its golden glow in yet another location in Dubai. As aswaaq is one of the newly launched 'green initiatives' meant to encourage and support the nation's youth, Damas' store opening at this community centre marks its hearty endorsement and support of the Government's futuristic vision for an environmentally friendly world. The Damas store predominantly showcases its in-house jewellery brands, its winsome array of wedding sets, acclaimed diamond jewellery collections and several world famous watch brands.

Tamjid Abdullah, Deputy Managing Director, Damas Jewellery said, "We at Damas are very happy to participate in Dubai Government's efforts to build a better world and we congratulate it on the launch of the aswaaq community centre. We heartily endorse this venture which is a pioneering effort in many ways and whose focus is to harness the youth power of the nation and provide them more opportunities.

I am positive that this will see many budding and enthusiastic entrepreneurs blossom and prosper under its guidance. As one of the oldest jewellery design houses of the region, I hope we at Damas continue to provide greater inspiration and motivation among the youth of the land to build a better future."

Damas Store at aswaaq Mall
This Damas store occupies 622 sq ft of the aswaaq Mall and can be found on the ground floor. It stocks predominantly in-house jewellery brands such as its popular Farfasha brand whose brand ambassador is well known Lebanese singer Nancy Ajram and its high selling 21k brand, Al Manthourah, Aya besides 18k international brands like Rosato and Genero as well as jewellery collections for children like Sidra and Alice.

The Damas store has an array of gorgeous wedding jewellery sets designed to make a bride's dream come true on her special day, besides showcasing bewitching diamond jewellery collections like Fulla, Fior, Hayati, and the Spanish Jewellery Collection. The acclaimed watch brands available here include Jacques Lemans, Lotus, Triumph and Trofish whose collections pay grand tribute to time.

aswaaq is a limited liability company, in which both Dubai Government and the Sheikh Mohammed Establishment for Young Business Leaders have joint stake holdings including the land provided by it to build its outlets. As a new concept in modern shopping, it consists of small, medium and big-size community centres, which have among other things a supermarket and retail shops. The first aswaaq community centre was opened in October 2008 at Nadd Al Hamar and more are planned to be opened in other parts of Dubai.

The overriding concept of aswaaq is its ambience of a traditional Arabian street market, brought to you with the new concept 'Dakakeen' the aswaaq Souk Area. Blending with it a modern touch it is designed to stimulate the senses with its display of a richvariety of fresh foods at fair prices. Also available here are fresh produce, pre-packed healthy meals, and an in-house Nutritionist to help guide one in making healthy choices befitting one's lifestyle.