DHL invests HK$100 mn in Fashion Competency Center & new office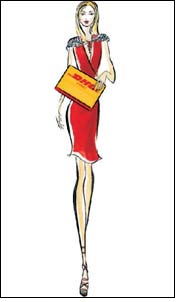 DHL announced an investment of over HK$100 million in Hong Kong. The investment goes towards the new 120,000 sq ft DHL Global Forwarding (DGF) office in Kowloon Commerce Centre (KCC) and the "DHL Fashion Competency Center" which is based in KCC. The DHL Fashion Competency Center will develop bespoke logistics products and solutions, and house a core team of industry experts providing consultancy services to customers in North Asia Pacific.

The Fashion and Apparel sector comprised 11% of total exports in Hong Kong in 2008, and in January to February of 2009 alone, total exports for this category amounted to 16%. In 2008, the export of fashion and apparel goods from Hong Kong to the European Union occupied 36.5% of total exports, with an equivalent value of over US$10 billion. In particular, export values to Finland, Russia, Sweden, The Netherlands and the United Arab Emirates experienced double digit growth by the end of 2008 compared to 2007. The U.S. is Hong Kong's second largest export market for fashion and apparel goods, at 35.6% with a value of close to US$10 billion.

"The Fashion and apparel industry is Hong Kong's second-largest export commodity worth over US$26 billion, after electronic products. The sector comprised 11% of total exports in Hong Kong in 2008 and experienced double digit growth in exports to many European countries. We see tremendous opportunity in the coming years. Despite the economic slowdown, speed to market remains crucial for business to stay competitive," said Hermann Ude, Global CEO, DHL Global Forwarding.

Hong Kong's total Airfreight export for the Fashion and Apparel sector amounted to more than 130,000 tons while Ocean freight export amounted to over 270,000 TEUs (twenty foot equivalent units) in 2008. The Airfreight and Ocean freight export of the sector is expected to reach over 124,000 tons and 276,000 TEUs, respectively in 2009.

"Hong Kong is the sourcing, merchandising and distribution hub for fashion in Asia. We believe in the long-term potential of the sector and continue to invest in Hong Kong. The new DGF office will function as our North Asia Pacific Regional office, drawing together a total of 800 employees under one roof. The new office is equipped with state-of-the-art facilities and sustainable features. This is a reason for our selection of the KCC as it is in line with our strategy to reduce our carbon footprint," said Kelvin Leung, CEO, North Asia Pacific, DHL Global Forwarding.

As the global leader in airfreight and ocean freight, DHL's services cover the entire fashion logistics value chain – from material purchasing to the sampling business, quality control of production and direct delivery to the boutiques of international fashion companies.

The investment is part of a series of initiatives by DHL to expand its presence in the fashion industry. Earlier this year, DHL launched Fashion Centers of Excellence in India and Sri Lanka. In April, the company inaugurated its Fashion-focused DHL Leadership Dialogue Series in Hong Kong which saw participation from leading global fashion brands.