Fossil launches all new range of Leather & Eyewear collection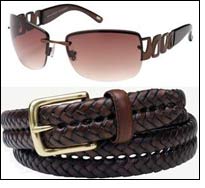 Fossil India one of the largest fashion accessory companies in India has launched its much-awaited range of 'Leather accessories' and 'Sunglasses' collection in India. Drawing inspiration from the 'Modern Vintage' theme products from both collections are fused with modernism to create an authentic look and feel that is in tune with contemporary fashion.

The Fossil 'Leathers Collection' comprises of belts and wallets for men. The leathers are sourced across the world and processed using eco-friendly techniques to give a variety of looks - crunched, smooth full grain and semi glazed. The leathers are exquisitely hand crafted in some of the best workshops in the world before they get the Fossil stamp.

• Belts are available across categories - Jeans, Casual and Reversible. Contemporary metal buckles are finished distinctively in looks of pewter, brass, gunmetal, gold and silver, depending on the style. Each design is offered in a minimum of four sizes, selected to suit typical Indian waists.

• Wallets are available across categories - Flyby, Evans Zip, Aiden, Chicago and Front Pocket. Custom-made linings and logos in stamped metal or deep embossing enhance the modern vintage look. Packaged in distinctive tin boxes, the wallets are a pleasure to own and to gift.

The 'Eyewear range' primarily focuses on signature patterns inspired by natural modern materials which defines the Fossil 2009 collection. The collection aimed both at men and woman has a concentrated effort on novelty which is sure to attract ardent admirers.

The women's collection constitutes collections:
• 'Iconic hardware' which compliments all occasions with its distinct features and also makes for a comfortable option this summer
• 'Signature pattern' exhibits exuberant floral cut designs befitted in plastic frames
• To add splatters of color to your look this summer try the 'Art of color' collection. Classic aviators in gradient lenses set in a thin metal frame to grab attention
• Stick to the basics with the 'Natural elements' collection that has sunglasses with gradient lenses set in a plastic frame with metal cut-out detailing to compliment the simple classic taste of a lady
• Add that extra verve into your attire with the 'Sparkle and shine' collection. Oversized sunglasses with gradient lenses are set in a sleek plastic frame with sparkling stone detail at the hinges. This collection definitely sets an eye on design.

The men's collection is created keeping in view the archetypal, dynamic & experimental man:
• The 'Classic Connection' explores the basic look which focuses on simple & clean styling for the day look
• The 'Architexture' collection has clear emphasis New logo plaques, streamlined styling. It fits the look for a dynamic man who is an aficionado of the contemporary look
• In the 'Natural Modern' collection wooden highlights have been used extensively to maintain the exclusive feel to the collection

The Fossil eyewear collection in totality fuses the modern vintage look with clear styling elements. The collection encompasses all the refined styles for this season to create a fashion avowal at every occasion.

Fossil India Pvt. Ltd.