fMM&T provides students first hand exposure to FDDI's courses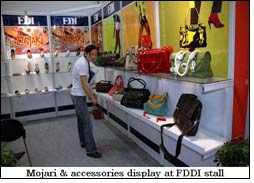 Footwear Design & Development Institute (FDDI) participated in Footwear Materials Manufacturing & Technology (fMM&T) Exhibition organized at Expo Centre, Greater Noida from 8th to 10th May 2009 at stall number 1065.

The exhibition was inaugurated by Mr. Dinesh Rai, IAS, Secretary, Ministry of Micro, Small & Medium Enterprises, Government of India.

The Indian Footwear Components Manufacturers' Association (IFCOMA) organized the exhibition in association with APLF Ltd., Hong Kong.

IFCOMA is the only trade association of Component Manufacturers in India having members from all geographical regions of the country whereas APLF Ltd., provides global companies a chance to trade and exchange information at a number of trade fairs.

Mr. Rajeev Lakhara, IRS, Managing Director, FDDI, said, "The exhibition turned out to be a strong platform, not only for scouting new trends, but also providing the students a first hand exposure to FDDI's courses & career thereafter."

Footwear components are the backbone of footwear industry. A decade back, the Indian Footwear Industry was dependent on import of components, but, today our country not only produce all the components but also exporting the same to many countries.

The exhibition was organized to showcase the strength of the Indian Footwear Components to the world and vice versa to offer to the international exhibitors an opportunity of entering the Indian market directly or by way of joint ventures.

The event created a platform for both Indian and foreign manufacturers to keep abreast of the latest trends in the manufacturing of footwear from design through to the finished product. It also created a bridge between the footwear manufacturers and the component producers targeting vast Indian footwear market.

During the 11th Five Year Plan (2007 - 12), FDDI has also been entrusted by the Department of Industrial Policy & Promotion (DIPP), Ministry of Commerce & Industry, Government of India with the responsibility to implement the scheme 'Support to Artisans'.

Under this scheme, the various clusters in India making traditional footwear, leather goods and other rural products are supported by Society for Marketing of Artisan and Rural Things (SMART).

SMART is an umbrella organization promoted with the active involvement of the FDDI with a focus on marketing of artisans products to make this sector competitive and ensure sustainable livelihood to the artisans.

During the exhibition, the products of the artisans, who don't have any means to reach a market place like this, were also displayed. Apart from Mojari, SMART displayed entire range & new developments in ladies sandals, bags, and belts which were an amalgamation of traditional and contemporary styles.

Mr. Shashi Bhushan Shukla, IRS, Secretary, FDDI stated, "It was a platform to bring the world's buyers and sellers together and provide them with the information they need to do business successfully."