Fashion show with tinges of green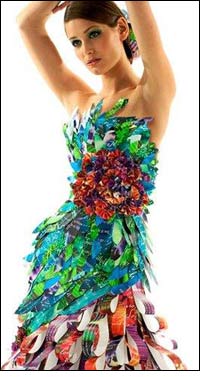 FDPC and Apparel Brain Connect hosted a fashion show, by paying tribute to the green revolution in the burgeoning fashion industry. Katharine Hamnett, the renowned fashion designer, who is considered "Queen of Green", was also present along with Mr JN Singh, Joint Secretary, Ministry of Textiles.

Ms Hamnett has been closely involved with organic apparels since 1989 and has tied up with an Indian company to promote the cause of sustainable fashion and apparels in India.

Mr Raghavendra Rathore, the doyen of the fashion industry in India said, "This fashion show along with the presentation of Ms Katharine will go a long way in the development of the green revolution in the fashion industry of India.

FDPC, is a government owned body, which is helping fashion designers across the country, by giving them a platform. Mr Vijay Singh CEO of FDPC said "This is a correct platform to promote young designers who propagate and believe in preserving mother's nature bounty and ethical fashions".

Along with Katharine, leading designers like Raghavendra Rathore, Varun Bahl, Jai & Parvesh, and California based designer Kareena showcased their collection and promised support for ethical fashion.