Brand Sense creates new business model with The POP Studio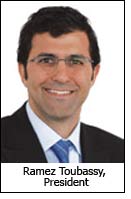 Brand Sense Partners introduces a new business model that strategically and uniquely combines key capabilities in new business development and brand engineering. This new model engages companies with creative direction, conceptual design and new business strategy in the fashion, apparel and retail industries.

BSP has hired John Moore and his team of world-class designers, merchants and artists at The POP Studio. Moore serves as President and Creative Director of The POP Studio as well as Chief Creative Officer of BSP.

"POP" stands for "Pencil on Paper," the blank canvas from which every new creative venture begins. It embodies the creative, roll-up-your sleeves spirit the team uses to take on projects - whether reengineering an existing apparel brand or developing an original concept.

Moore made his first major footprint on the fashion industry with Abercrombie & Fitch. In 1999 he was handpicked to create the third concept for A&F. Moore conceptualized the brand identity and store concept, directed clothing and graphic design, and named it Hollister Co. He quickly rose up the corporate ranks to Global Conceptual Director of all businesses at A&F. Moore went on to become Creative Director of the much-heralded label Modern Amusement where he used his retail knowledge and cultured style to elevate the brand from a little known Southern California street wear label to an in-demand premium collection.

Ramez Toubassy, President of Brand Sense Partners explains that this strategic development is an important step in Brand Sense's evolution. "We set out last year to aggressively build a new business model that addresses significant gaps in the market. Traditional licensing, brand extension and new business development are core Brand Sense capabilities. The POP Studio is the first of several steps in an evolution that delivers deep and focused industry expertise."

Moore comments on how this partnership will deliver a compelling value proposition to leading fashion, apparel and retail companies; "Our mission at The POP Studio is to inspire, create and collaborate on original and distinct concepts. When you combine our creative vision with Brand Sense Partners' business development acumen and strategic relationships, you have the ideal platform to provide premier advisory services to leading fashion and apparel brands."

Toubassy comments further that Brand Sense views more specialized skill sets and intellectual property as critical to delivering compelling new business development and innovation, "The focus on fashion and apparel at The POP Studio enables us to drive greater value to new and existing clients and strategic partners, with proven world-class creative direction and design capabilities in-house."

The POP Studio will operate as a Brand Sense portfolio company - a "brand engineering" consultancy that will deliver full-service creative direction with a focus on brand image, product design and retail environments in the fashion and apparel industries. Moore further explains the strategy; "Brand Engineering is taking powerful ideas and turning them into successful brands, by planning, designing, constructing and managing a clear and original concept."