2nd Footwear Expo in Dubai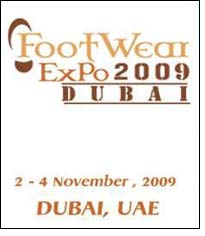 We take this opportunity and most cordially invite your esteemed organization and associate members to exhibit & support us in 2nd Footwear Expo 2009, being organized from 2 -4 November 2009 – Dubai.

The 2nd Footwear Expo 2009 is the most important gathering of footwear industry not only for the UAE but for the whole Region. The 2nd Footwear 2009 is incorporated with Travel Goods Expo 2009, Dubai.

DUBAI – International Business
Dubai presents international business with a wide range of opportunities for different activities and operations such as - Trade, Transport and distribution, Manufacturing and processing, Regional offices. Long recognized as the leading regional trading hub in the Middle East, Dubai has transformed itself in recent years into a truly international business centre of global significance.

Wide import requirements; opportunities for suppliers of most products; An accessible market - served by more than 170 shipping lines and 86 airlines; An open market - no exchange controls, quotas or trade barriers.

The oil sector comprises a major portion of the country's GNP, is the stabilizing force of this tiny emirate. The reason why the popularity of Dubai is soaring these days is due to its ultramodern and sophisticated banking sector which provides a variety of services for its wealthy expatriate clientele. The banking system in Dubai is so private that it is now often compared to that of Switzerland. As the second largest emirate of the UAE, Dubai has established itself as a major business centre in the Gulf region.

2nd Footwear Expo 2009
The event will serve as a powerful platform for regional and international companies aiming to showcase their products and developments in technology, equipment and services to the Middle East's burgeoning footwear market. Exhibits will feature wide array of products from men's footwear, women's footwear, children's Footwear, casual footwear, corporate footwear up to leather products and accessories. The Exhibition will be promoted to industry professionals, trade visitors and decision makers through an extensive and carefully planned media campaign, which is designed to attract key personnel in the Public & Private sectors.

Exhibitor's Profile: Men's Footwear,Women's Footwear, Kids & Children's Footwear, Comfort Shoes & Boots, Sandals & slippers, Corporate Footwear, Fashion Footwear, Bride & Groom Footwear, Fashion Footwear,Safety & Security Footwear, Leather Products & Accessories

Visitor's Profile: Footwear & Leather Associations, Trade Buyers, Footwear Designers, Distributors, Brand managers, Manufacturers, Footwear Agents, Decision makers, Ministries from regional countries,Footwear Show room managers.

Sponsorship Opportunities
Sponsorship opportunities are available and how they can help to promote you before, at and after Footwear Expo. For simplicity they have been grouped into specific areas of interest. Our sponsorship teams are ready to discuss your options and work out a package that suits your needs, reflects your company image AND fits in with your budget!