Simmons Jewelry brings 'Luck' to the industry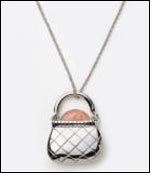 Historically a faithful companion to the classic loafer, Simmons Jewelry Co. brings the lucky penny to fine jewelry with the debut of their Penny Pendants (TM and design patented) line. Subscribing to the mantra, "See a penny right side up, all day long you'll have good luck," the new line features a single luminous U.S. Penny encased within various three-dimensional animals as well as other lifestyle and iconic figures.

For all who have discovered a "lucky penny" or wished upon a shooting star, the line of pendants allows you to carry those hopes, dreams, and wishes close to the heart. What better way to ensure a streak of good fortune amid the trials and tribulations of today's world than to have a lucky penny hanging securely from your neck?

The gleaming penny is seamlessly integrated into the silhouettes of stars, handbags, and charming creatures including ducks and ladybugs, so you can accessorize with not only style, but good luck as well. Remember, fortune favors the bold, so don't hesitate to safeguard your every wish with a striking and unique statement piece!

The Penny Pendants line is the result of a creative collaboration between Simmons Jewelry Co. and designer Dana Michele. With more than a decade of experience in designing and manufacturing jewelry and children's toys, Dana Michele's playful and imaginative demeanor clearly translates to her designs which have been sold in major retailers including Toys "R" Us, FAO Schwartz, and Linens-N-Things among others.

Dana Michele partnered with Simmons Jewelry Co. because of its cutting edge jewelry and propensity for innovation in creating unique products. Birthed from a belief in the good fortune that accompanies a penny, the line was created to assure a charmed existence throughout the rollercoaster of life. The compelling designs are suspended from a 36" chain and engage the imagination of the purchaser in such a way that they feel secure in knowing their most intimate hopes and dreams remain close by. Simply grasp your Penny Pendant and make your wish!

Keep your pendant and pass one along to a friend; the Penny Pendant is the ultimate every-occasion good luck charm. Simmons Jewelry Co. will showcase Penny Pendants alongside its existing brands at JCK booth No.11064 May 30th - June 2nd, 2009 in Las Vegas.

Simmons Jewelry Co.