Sports brand Kappa new sponsor of the Siena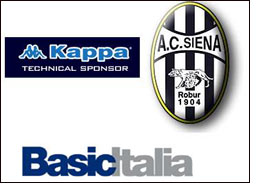 Basic Italia S.p.A. and A.C SIENA S.p.A. announced that they have signed a licensing and technical sponsorship agreement for the next two seasons. The agreement may be renewed upon expiration.

Thanks to this agreement, Basic Italia has been given the title of Technical Sponsor and Official Supplier of the Siena football club's teams as well as the licence to produce, distribute and market technical sportswear and leisure-time clothes bearing the A.C. SIENA logo.

After expressing mutual satisfaction over the agreement, either party may organise a press conference where details about the partnership will be disclosed, and the official shirts for the 2009/10 season will be unveiled.

The Siena football players will wear the innovative Kombat 2009, which is included in the new technical collection developed by the Kappa R&D centre in line with best quality and aesthetic standards. Brand new collections for training and leisure time are being created in record time following innovative technical solutions and design.

Giovanni Lombardi Stronati, A.C. Siena Chairman, commented: "We are very happy with the agreement reached with Basic Italia, company leader in the sportswear sector, and therefore to start a partnership with this brand. An all-Italian partner with long expertise in the sports sector for quality and innovative products, with maximum fabric reliability and comfort. This means added value for our football club, that, starting from next season, will boast a new important partnership as well as existing sponsorship agreements."

"I am particularly delighted to announce this agreement – stated Marco Boglione, Chairman of BasicNet – and to be the all-Italian sponsor of A.C. Siena. I hope that such investment will allow us to further support and boost the development of our Group within our strategic plan that has always envisaged important technical partnerships, such as with AS ROMA, SAMPDORIA and TORINO FC, and with JUVENTUS, A.C. MILAN and NAPOLI in the past."

The BasicNet Group operates in the clothing, footwear and accessories sector for sport and free time with the brands Kappa, Robe di Kappa, Jesus Jeans, K-Way, Superga and Lanzera.

Kappa is a sports brand owned by BasicNet SpA together with Robe di Kappa, Superga, K-Way and Jesus Jeans. The Turin-based Group has been listed on the Milan Stock Exchange since November 1999. Up to now the Kappa "omini" logo has proved to be successful in the sports world, sponsoring the Italian Rugby, Golf, Fencing, Judo, Wrestling, Karate and Martial Arts Federations as well as more than 40 international football teams such as the Jamaican Federation, AS Roma, Torino FC, Sampdoria, Borussia Dortmund, Valencia, FC Copenhagen, Partizan Belgrade and FC Nantes.

Basic Italia S.p.A.