Sophie Hong renews tradition & injects new energy into fashion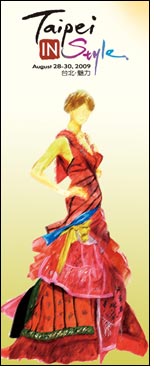 Under the duress of global economic downturn, the global economy has suffered. Taiwan was not exempted from the recession. The overall economic activities have slowed down consequently. In facing such difficult time, the textile industry urgently needs to develop brand advantages to nurture a long-term growth. In order to promote the policy of "Branding Taiwan" to help Taiwan's industries to develop their own brands, the government has worked with Taiwan Textile Federation(TTF) and Taiwan External Trade Development Council (TAITRA) to organize "Taipei IN Style 2009" in August 28-30 at Hall I of Taipei World Trade Center to align Taiwan's brands, introduce new global ideas, and to energize the textile industry.

One of the key events each year at Taipei IN Style is the fashion show from top international designers. This year, the show will be held at 7:30 pm on August 28 at Hall I of Taipei World Trade Center. Leading designers from world fashion will be presenting their latest works, including Walter Ma from Hong Kong, Desmond Yang from Singapore, Aguri Sagimori from Japan, Claire Fang from China, Leslie Wang from U.S., Sophie Hong and Gioia Pan from Taiwan. This year, a special feature of "Love Life" charity event is added to the evening to raise public awareness on the value of life. It's an event many local and international buyers, designers, distributors and guests should not miss out.

Sophie Hong (Taiwan) Renews Tradition and Injects New Energy into Fashion
Renown critic from France Henri Roussel described Sophiie Hong as a designer that "fuses East, West, classics, modern, and practicality together. She incorporated curves heavily to create fluidity and lightness in her designs. At the same time, she has kept the end of the red thread in traditional Chinese sewing to bring a sense of joy while wearing her designs. She created the moire patterns on the fabrics that are clear as sand dunes and wide as the landscape…"Sophie Hong developed her exclusive "Hong Silk" that interprets ancient Chinese silk knits, renewing traditions to inject new energy into fashion. Hong graduated from Shih Chien College with a degree in fashion design. After that, she went abroad to study in Dunka Fashion College in Japan, FIT in New York, and then on to Paris. She also interned at the ateliers of Christian Dior and Chanel. Devoted to fashion designing for the past 30 years, Sophie Hong is active in the fashion arenas of Paris, New York and Tokyo.

Walter Ma, the Leading Figure in Hong Kong Fashion
Walter Ma graduated from Hong Kong Institute of Fashion in 1975. In the same year, he opened his first boutique - Vee Boutique, becoming the first local designer with his own label. In more than twenty years, he has succeeded with his iron-steel determination. Currently the vice chairman of Hong Kong Fashion Designer Association, Ma has endlessly promoted the image and position of Hong Kong's fashion. Along with other fashion designers in Hong Kong, Walter. Ma helped transforming Hong Kong from a cheap garment factory into a high-end fashion metropolitan. At the same time, he actively encouraged young designers to learn from experience to become internationalized.