Koblerr to be Pavers England's first destination store in India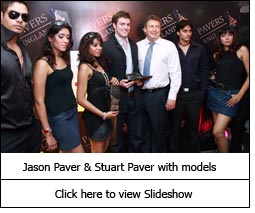 Pavers England Footprints Limited, a venture from London based US$ 60 million Pavers Foresight Smart Ventures, recently strengthened its presence in Indian Footwear Retail market by announcing Koblerr as its first destination store in the country at a high profile footwear fashion show in the city.

Explaining the innovative concept of 'Destination Stores" with MBO's, Mr. Stuart Pavers, Chairman, Pavers England Footprints Limited said, "In a country as large and diverse as India- it is critical to leverage the existing goodwill of MBO's and their localized strengths. We have tested the waters and identified select partners who can provide the same level of customer experience and service as is available for the brand, in UK and through them will expose the entire range to our discerning customer".

"Koblerr is our first such partner and will remain exclusive for the Chennai region. The synergies are excellent – and they have been our top performing retailer with over 4500 pairs being sold in the last FY."

They have an excellent track record, with niche customers relationships built over 15 years and retail the best national and international brands, making them our natural choice," he added.

Pavers England which entered the market in April 2008 has firmly established a foothold in India with a steady and consistently growing market share and presence in across 10 cities and 60 outlets. The brand has surpassed sales targets and achieved sales of 15000 pairs giving a turnover of US$ 500,000 in the first year itself.

The management has earmarked an investment of US$ 10million of next 3 years to build the business and the brand and aim to cross sales of 100,000 pairs / annum by 2010.

Starting with the Spring Summer 09 collection, Koblerr will be the first retailer to showcase the entire range of over 150 SKUs for this season.

Pavers England will have 100 outlets by Sep-2009 and the aim is to establish 200 outlets with 5 flag ship franchisse by 2011. Pavers England will support the destination outlets with branding and advertising support, with focus on BTL activities to drive footfalls and trials.

Speaking on the occasion to media, Mr Chandan Issrani from Koblerr, said, "We are happy to be associated with Pavers England. Unlike other international brands, they have been successful in bringing international fashion trends as well as a good range, at reasonable pricing. It is a fast moving brand and we are confident that the destination store concept will be a win- win formula for mutual growth."

Pavers England has already been successful in replicating the "Rapid Response to Retail" model in the Indian Markets, whereby the consumers in India are on par with the latest trends and designs launched globally. Also the mechanism enables the retailer to quickly furnish and replenish stock in the fast moving SKUs across designs, colors, sizes; etc. and take full advantage ofthe consumer pull.