Lifestyle worlds in street fashion & denim brands to hit GDS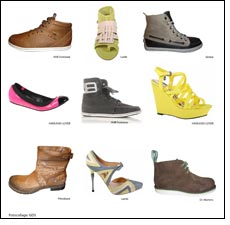 For the first time, the familiar variety of street culture as a mixture of established top sellers and brand new labels is presented at GDS from 11 to 13 September 2009 entirely in Hall 3. Next to an exciting label mix of street and sportswear, visitors can look forward to a hall design that creates fully independent lifestyle worlds through authentic stand construction concepts and design-oriented lounge areas. Thus the four different urban worlds at GDS — Urban Authentic, Urban Fresh, Urban Active and Design Attack — are distinguished from one another not only conceptually, but also visually.

This structuring offers buyers an optimal overview of the multifaceted offerings for young and young-at-heart consumer target groups.

Famous icon labels with tradition, as well as new, authentic and unmistakable labels exhibit in the Urban Authentic area. Here you will find, among other things, shoe collections from the big denim labels such as Mustang Shoes, Pepe Jeans Footwear and Replay Footwear; popular styles from Aces of London, ART, Billi Bi (new), CallagHan, Converse, DCCO, El Naturalista, Fossil, Le Coq Sportif, HUB Footwear, Palladium, Rehab, Snipe, Tiggers, W6YZ and Yellow Cab, as well as new exhibitors such as Radical Boot and Rizzo. Sportswear labels such as FitFlop, Sperry Top Sider and Tatonka focus on performance and combine intelligent functionality with comfort and style in the Urban Active area.

The Urban Fresh area portrays the world of consumer-oriented lifestyle and fashion brands. Here you will find top sellers such as s.Oliver, Camel Active and Mexx, as well as young fashion collections from Buffalo, Amani, Coxx Borba, Clarks, KangaROOS and Skechers. With their extraordinary ideas, creative design newcomers make the special Design Attack area a special experience in the midst of the informal atmosphere of the summer theme "Hippie Waikiki".

100 young designers stage their collections in a sensational Hawaiian ambience full of sun, sand, sea, palm trees and surfboards. At the 11th edition of Design Attack, buyers can expect a mixture of independent fashion, urban and underground streetwear, accessories and lifestyle products. Under the motto "Hippie Waikiki", visitors will experience flower power on one of the world's most famous beaches. Pacific waves roll gently onto the beach as the setting sun paints the horizon in a rainbow of colours.

At the Banana Bar, visitors encounter stranded globetrotters, deeply tanned surfers and bikini babes sipping their Blue Curacaos. The Design Attack area transforms into a hippie market as young talent displays their unique designs in the shadows of colourful cloths. The new collections for the 2010 Spring/Summer season 2010 will be presented in a spontaneous fashion show on a landing stage in the beach atmosphere. Labels such as Lotte Voss, Yuta Pasch, KIRSCHKERN and Pantoffeldiva have already registered.

With styles such as "You're not the boss for me" or "Sex on the beach", the new Design Attack exhibitor beachers presents colourful casual footwear for summer. These super-light unisex thong styles are impeccably crafted and appear in a casual look with colourful lettering or stylish all-over prints. The characteristic thick nobby soles lend an additional level of comfort.