Men's fashion secures Annual Showcase with Van Heusen India Mens Week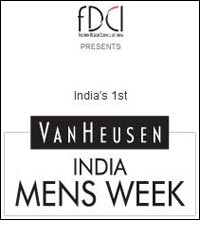 Fashion Design Council of India (FDCI) and Van Heusen are set to change the dynamics of the Indian fashion landscape, with the first seriously exclusive fashion week JUST for men. FDCI made the formal announcement of its first annual 'Van Heusen India Mens Week' and unveiled the logo of the forthcoming event at a press conference (July 29).

After a decade of successful India Fashion Weeks, FDCI is ready to explore the growing potential of Men's Fashion in India in partnership with Van Heusen, India's leading lifestyle brand. The 'Van Heusen India Mens Week' positions India as the 4th Fashion Capital of the World to host an independent Mens Week.

'Van Heusen India Mens Week' will be held in New Delhi from September 11 – 13, 2009 at The Grand and will feature 15 shows and over 20 exhibitors. It promises to be a world class event showcasing the very best of Indian talent. Designers will be invited to cover the widest range of men's fashion – menswear and accessories, under one roof, affording buyers and consumers the widest possible selection of fashion for men.

Elaborating on the need for an independent forum for men's fashion, Sunil Sethi, President, FDCI, said, "Men are active participants and contributors to the growth of fashion today, who have moved beyond deciding their favourite colour of ties and socks to actually cultivating loyalties for designers and lifestyle brands. Menswear dominates a larger per cent of branded apparel sales in the country and is said to be growing at a CAGR of 15%. The 'Van Heusen India Mens Week' aims to give menswear designers a structured impetus and the much needed platform to tap this potential of men's fashion in India."

Speaking on the growing market for Menswear in India and Van Heusen's alliance with the forthcoming India Mens Week, Mr Shital Mehta, COO, VanHeusen, said, "From the early 90s, Van Heusen has not only taken the lead in establishing the ready-to-wear segment in men's workwear, but has also constantly brought international fashion to the Indian consumer. It was only logical that Van Heusen be the title sponsor of the India Mens Week, in its commitment to consolidate this position further."

The first edition of the 'Van Heusen India Mens Week' also provides a unique prospect to promising talent through the 'Van Heusen Emerging Designer of the Year Contest 2009 in association with FDCI'. The winner will not only be felicitated, but will earn a chance to showcase designs at the Fashion Week itself.

'Van Heusen Emerging Designer of the Year Contest 2009 in association with FDCI' is open for all Students and Professional Fashion Designers with experience of three years or less, starting August 5, 2009. Interested contestants can submit entries on the event website vanheusenindiamensweek.com or on the FDCI and Van Heusen websites. All contestants have to submit three entries, outlining clearly the concept, material used, collection note, in full colour no later than August 20, 2009.