PFW announces OPEN audition date for Emerging Designer Showcase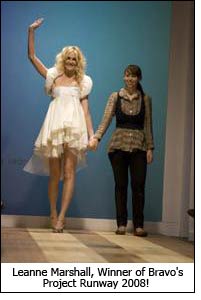 Portland Fashion Week has long been a launching-point for emerging talent into the marketplace. By making a high-production fashion week affordable to independent designers through business sponsorship, PFW lowers the barriers to entry, and reaches a broad range of press and public.

Richard Klein, Publisher of Surface Magazine remarks, "Surface supports projects that promote innovation and emerging talent and for this reason we are excited and proud to be the media sponsor for PFW."

"With a history of accommodating up & coming talent during economically-strapped phases of their development, PFW has seen its emerging talents rise to new heights" says PFW Executive Producer Chris Cone, "This year it continues with the Emerging Designer Showcase, a juried-entry program that will feature upcoming designers, make their collections accessible to wholesale buyers at the PFW Buyers Hour, and for sale to the general public in the Designer Pavilion of PFW Plaza."

Designers selected by the jury will qualify for a $350, 7-look show at Portland Fashion Week on Thursday, October 8, less than half the cost of a normal entry-level show. Selected emerging designers can enjoy all the benefits of a PFW designer's attention from press, public, and buyers, and be featured in a high-end production, the best of the best in the Pacific Northwest.

For a designer, learning to establish the brand-identity for your fashion label is equally important as designing it" adds fashion designer Anna Cohen whose experience spans Portland and Italy, her SS/08 debut in Portland Fashion Week, and her upcoming launch at PFW this October, "Portland Fashion Week offers a wonderful and affordable opportunity to do it where the package includes putting on a high-end show and exposure opportunities; the sale opportunities are a welcome bonus"

The jury will include leading fashion industry professionals in Portland: (in alphabetical order)
Sue Bonde, Dir. of Apparel Design, Art Institute of Portland
Jo Carter, Owner/Buyer of Physical Element
Anna Cohen, Internationally renowned Eco-designer
Alice Dobson, Owner/Designer of Sofada
Marie Saturn, Owner of Saturn Style Studios
Marjorie Skinner, Managing Editor of Portland Mercury
Modi Soondarotok, Owner/Designer of IDOM
Lisa Radon, Publisher of ultrapdx.com, writer for Portland Spaces Magazine.

THE WINNER OF THE EMERGING DESIGNER SHOWCASE ON THURSDAY, OCTOBER 8, WILL RECEIVE PRIZES INCLUDING THE FOLLOWING FROM THE > PFW EMERGING DESIGNER SHOWCASE SPONSORS

Button Magazine will provide a spread for the winning designer in the October/November 2009 issue!

World class New York fashion photography and online media company Fashion Wire Press will provide full-res images of their runway collection to the designer, AND provide photography for a photoshoot for the designer's SS/2010 lookbook.

Creating innovative designs that tell compelling stories, Marketing & Branding firm 24notion will provide 3 hours of business/marketing consultation, AND will design the winner's SS/2010 lookbook.