Modicare launches 30 new cosmetic products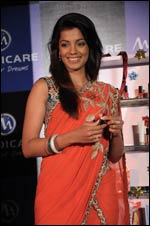 Modicare, India's leading Direct Selling Company has announced the introduction of 30 NEW products across six categories. The categories include Colour Cosmetics & Skin Care, Personal Care, Home Care, Auto Care and Laundry Care. The company is also introducing a new category 'FnB'. In its new FnB category, Modicare launches Fruit of the Earth Premium Tea - its lingering aroma and irresistible refreshing taste makes every sip a delight. The Well Protein Nourisher is a supplement suitable for all ages as it offers the best blend of soy and milk proteins making it ideal for Indians to balance their protein requirements.

Actress & model Mugdha Godse was the chief guest at the launch of the new products.

"Based on our go-to-market strategy & strengthened product line-up for the Indian consumers, I am confident, that Modicare is ready to capture a sizable market share. These efforts are another step towards Modicare's vision to continuously redefine and deliver the benchmarks of high quality offerings that finds a need in your everyday life," corroborated Mr. K.K. Modi, Chairman, Modicare Limited.

Modicare's portfolio has increased across the length and breadth of the country with the introduction of products in other categories like Personal care, Home Care, Health & Wellness and Laundry Care. Our make up range will be updated regularly twice a year according to market demand, taking inspiration from the key trends of the season.

Manisha Amol, Vice President, Marketing, Modicare Limited added, "We strive continuously to introduce products that transform either a person or an object and let the inner beauty shine through! Our aim is to deliver products of the highest calibre to our discerning customers and ensure that they remain loyal to us. The products will be available through Modicare consultants across India and will be promoted through radio, SMS, promotional offers & events across India."

Modicare's Colour Cosmetics and Skin Care portfolio, Essensual 20 brand introduces 19 brand new sensual products. Pamper and prepare your skin for perfect make up with the help of Silky Base. Hydrate, nourish and protect your skin with the new range of "Foundations - Perfect Glow and Age Gracefully. Give the dash of colour to your cheeks for that healthy glow with Silky Blush – Duo.

They are the window of your soul - make your eyes the focus of attraction from a palette ranging from Pretty Barbie or Spring Ocean, Forest Plum or Smoky Sky – the Silky Eye Shadow – Duo.The brand new Eye Pen in classical Jet Black shade and the "Eye Pencils" in stunning 8 shades – Gold, Silver, Blues and Greens will make you the talk of the town!

Treat your lips with a range of products - Lip Pencil, available in 5 most suiting shades; the "Matt Perfect" Lipstick in Sweet Plum, Pretty Brown, Deep Red, Lilac Rose, Peachilicious and Orange Red. For moisturized lips with Silky feel, grab the Creamy Silk Lipstick available in 10 trendy shades. A dash of gloss adds drama – choose out of "Pearly Shine" and "Soft". To complete the total effect, try out Modicare's Daily Dazzler, Exotica and Style N Shine Range to jazz up your nails whatever the occasion.