Cosmetics fair 'Beautyworld India' begins from Oct 4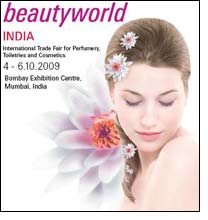 With exactly two months left to go, Beautyworld India is well on track to offering its exhibitors and visitors a high quality professional meeting point in the country's fashion capital Mumbai. To be held from October 4 – 6, 2009 at the Bombay Exhibition Centre, Mumbai, the fair, the only one of its kind on the subcontinent, continues to be the most attractive proposition for international manufacturers eager to enter the Indian market, where demand for cosmetics and health care is at its healthiest.

The highlight of this year's fair is none other than the World President of Intercoiffure Mondial, Klaus Peter Ochs. He will present daily hair shows where the latest techniques in styling and haircuts will be revealed. Beautyworld India will also launch the first ever Nail Championship in the country. Excitement is building up countrywide for this challenge. Beautyworld India is supported by leading associations to ensure that the entire industry is part of the development process.

Messe Frankfurt India is closely working with the Cosmetology Society of India, as well as the Flavours & Fragrances Association and the Food & Drug Association, all of whom form the back bone of the cosmetic industry in India. "Beautyworld India is an excellent event organized with the highest professional standards and we are happy to be associated with them", says Mr. Suhas Chaudhari, Joint Commissioner Food & Drug Administration of India. Beautyworld India 2009 will feature the entire gamut of product ranges from cosmetics, skincare, hair care, dental care, spa and wellness, to packaging, raw materials, manicure & pedicure, furniture for beauty parlors, fashion accessories as well as training centers and publishers from India and abroad. Among the exhibitors are Cipla India, all set to feature their unique range of hair care, skin care, spa products and perfumes, as well as health and energy drinks.

Eisen Germany will present their high quality cosmetic sharpeners that fit all type of cosmetic pencils. Italian manufacturer, Oyster Cosmetics will present hair and skin care cosmetics. Kryolan Cosmetics Germany will be showing their expert range of professional make – up, are among a host of exhibitors from Turkey, Spain, China, Australia and Europe. More than 16 professional workshops will be held alongside the fair allowing for an exchange of latest information, new techniques and products. They are "must-see? events for professionals in the cosmetic industry. Among the highlights of the workshop sessions are the Daily Hair Shows by star hairstylist Klaus Peter Ochs. The famous Ananda Spa in the Himalayas will present their holistic views on "Ayurveda & the healing process". Experts like Dr. Geeta Pandya, a pioneer in the field of gynecological endoscopy and assisted reproduction in India will speak on hormones.

International speakers like La chasha from Netherlands will expand on skin care and treatments. International exhibitors wanting to do business with India have the best opportunity to get first hand information on policies and procedures for import into India through the interesting panel discussion featuring important speakers from the Food & Drug Administration and the Mumbai Customs Authorities. "We are upbeat about the fair this year even if we cannot expect a large growth in exhibitor numbers due to the economic downturn in most markets. Our commitment to this market means that we will ensure high levels of interaction between buyers and sellers as well as the consumers of India. The high quality speakers we bring to the event will impart knowledge and information that our growing market needs", said Ms. Shammi Nagpal, Managing Director, Messe Frankfurt India.