Paula Wallace accepts honor at FGI's Night of Stars Gala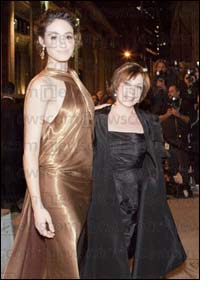 Savannah College of Art and Design President Paula Wallace was presented with the Fashion Group International 2009 Sustainability Award on behalf of the university at FGI's star-studded 26th Annual Night of Stars Gala Thursday, Oct. 22, in New York City.

The Sustainability Award is in recognition of SCAD's position as a leader in sustainable practices, urban renewal and the adaptive reuse of historic properties. Vogue Editor-at-Large Andre Leon Talley, recipient of and namesake to SCAD's annual Andre Leon Talley Lifetime Achievement Award, presented the Sustainability Award to Wallace.

In his introduction, Talley praised Wallace for leading the conservancy of more than 100 historic buildings around the world, turning "this incredible university called SCAD a wonderland of recycled buildings."

In accepting the award for the university, Wallace thanked FGI for recognizing SCAD's commitment to sustainability. "We at SCAD believe there's really no difference between sustainable design and good design. It's the same thing. It's smart. It's compassionate. It's relevant. It's exalting. And it starts with young artists and designers like those at SCAD who are learning that responsible design isn't only about renewable materials. It's about renewing ourselves."

Wallace was escorted down the red carpet by Golden Globe nominee Emmy Rossum ("The Phantom of the Opera"). Rossum will be honored at the Savannah Film Festival, which is sponsored by SCAD, Nov. 2 with the Young Hollywood Award prior to the screening of her film, "Dare." Joining Wallace and Rossum at the FGI table were Talley, fashion designer Angel Sanchez and interior designer Miles Redd, among others.

This is only the second Sustainability Award ever presented by FGI. "The Savannah College of Art and Design is a remarkable institution with a sense of vision and a commitment to environmentally conscious design on so many levels," said Margaret Hayes, president of Fashion Group International. "This year's Night of Stars Sustainability Award honors their efforts in the development of a green campus, the redesign of many of their buildings and in making sustainability a part of their curriculum. We are pleased and proud to recognize SCAD with an award they so richly deserve."

Among those also receiving awards that evening were Oscar de la Renta, who received SCAD's Andre Leon Talley Lifetime Achievement Award in 2001; Gucci's Frida Giannini, who was presented with her award by Mary J. Blige and James Franco, who has screened a number of movies at the Savannah Film Festival over the years; Coty Prestige's Catherine Walsh, who received the award from Gwen Stefani; Diesel's Renzo Rosso, who received his award from Michael Stipe; Michael Kors, who was handed his award from Iman; and Kenneth Cole, receiving his award from Jon Bon Jovi. Also on hand to support the honorees were style icons Tommy Hilfiger, Vera Wang, Jonathan Adler and Simon Doonan, who hosted the event.