Vintage by Kate Moss enduring style and elegance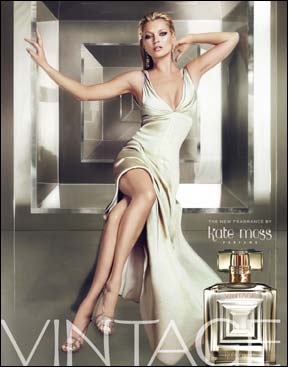 The most desirable things in life have a precious, enduring beauty that should be treasured forever. Discover the timeless allure of Vintage by Kate Moss, the stunning new fragrance from the world's most famous supermodel, available from September 2009.

Style icon and vintage connoisseur Kate Moss has filled every facet of her life with cherished vintage pieces. With a passion for fashion, the arts and antiquities, she is drawn to objects with an individual style and charm that transcends generations. Kate's modern interpretation of these vintage classics reinvigorates them, giving them a truly contemporary appeal.

Stylish, sophisticated and deeply feminine, Vintage, a fruity floriental fragrance, is a unique expression of Kate's love of vintage clothes and objects d'art. Just like Kate, the most striking vintage objects have a unique spirit and beauty that cannot be imitated. Just like Kate, Vintage has an enduring style and elegance that is destined to captivate men and women alike.

Kate Moss comments, "I am fascinated by vintage pieces because they not only have a remarkable beauty but also an innate sense of history - I love the fact that each object has its own story to tell. And yet vintage items can be reinvented with a modern twist to make them very fresh and relevant today. That's why vintage looks have inspired my personal style, my work as a fashion designer and, now, my fragrance."

Rich in sophistication and luxury, Vintage is an exciting blend of fruity and floriental notes. The fragrance opens with illuminating pink pepper, white freesia and invigorating mandarin for an initial burst of spicy freshness. At its heart, smooth heliotrope unites with jasmine and almond flower to deliver a lush floral bouquet with a timeless appeal. Warm base notes of tonka bean, vanilla and skin musks add a depth and refinement whilst also creating a modern feel. The overall experience is soft, fresh and sensual with more than a hint of Kate's iconic individual style.

Vintage's undeniable elegance is reflected in the delicate, ultra-feminine bottle that was inspired by the vintage perfumes of the 1920s and 30s. The flacon is finely faceted on the front and sides and on the striking glass-like cap, creating an enchanting jewel-like effect. This is enhanced by the exquisite rose-gold collar around the neck of the bottle, decorated with vintage inspired filigrees. The front of the fragrance is adorned by the Vintage name and Kate Moss's distinctive signature in a classic vintage rose gold.

For the ultimate in boudoir style, the glass is tinted a smoky topaz and jade colour, creating a look that's pure vintage. The fragrance comes beautifully packaged in a folding box that exudes old-time glamour. The box echoes the bottle design with its timeless rose-gold filigree pattern, which is printed on metallic paper for an extra luxurious feel.

The timeless sophistication of Vintage is brought to life by the arresting print and television advertisings, which are a visual representation of Kate's deep appreciation and understanding of the enduring beauty of all that is vintage.