Macy's 'Believe' with 'Santa Tour' featuring Queen Latifah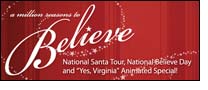 Building on the great success of last year's inaugural "Believe" campaign, Macy's announced exciting new elements of this year's holiday effort to support the Make-A-Wish Foundation. This year, Macy's is adding to the spirit of "Believe" with a national Santa Tour, an honorary National Believe Day, a "Yes, Virginia" animated special, a new TV commercial featuring Queen Latifah, and an interactive Believe Web site at macys.com/believe.

The nostalgic holiday campaign was inspired by the New York Sun's famous "Yes, Virginia, there is a Santa Claus" editorial from 1897 and includes letter-writing "Believe Stations" in Macy's stores across the country with Macy's making a $1 donation to the Make-A-Wish Foundation for each letter deposited in Macy's Santa Mail, up to $1 million.

"Macy's Believe effort really inspired people last holiday, and customers and communities across the country responded in a big way," said Peter Sachse, Macy's chief marketing officer. "Not only did we collect more than a million letters and hit our $1 million goal for the Make-A-Wish Foundation, but we saw wonderful and unexpected examples of schools and communities coordinating letter drives to help support this effort.

To build on that excitement this year, Macy's Believe campaign will layer on new elements including taking Macy's Santa on tour, designating a special Believe Day to celebrate the holiday spirit, and premiering a new animated holiday special that tells the 'Yes, Virginia' story. This holiday, America will be inspired to Believe again."

Beginning on November 6, 2009, believers of all ages are invited to drop off letters stamped and addressed to Santa At The North Pole at any Macy's store in the Santa Mail letterbox. For each letter received, Macy's will donate $1 to the Make-A-Wish Foundation, up to $1 million, to grant the wishes of children with life-threatening medical conditions.

"The Make-A-Wish Foundation is proud to join with Macy's to make wishes come true through the Believe campaign," said David Williams, President and CEO of the Make-A-Wish Foundation. "It inspires people to embrace the generosity of the season and think hopefully about the future. Believe ties in perfectly with our mission to grant the heartfelt wishes of children with life-threatening medical conditions, and we appreciate the support of Macy's and everyone who takes part in the campaign."

New Believe elements this year include:
Macy's "The Trek" TV Commercial, The Believe advertising campaign will break on Friday, November 6, with a new national television spot featuring Macy's star Queen Latifah. The spot, called "The Trek" features Virginia making the trip from her home to Macy's, where Queen Latifah helps her mail her letter to Santa. A Spanish-language version will feature Carlos Ponce.

Macy's National Santa Tour, A new and exciting element to the Believe campaign is Macy's Santa Tour. Following his celebratory kickoff of the holiday season in the Macy's Thanksgiving Day Parade, Santa will embark on a whirlwind tour across America, greeting young boys and girls and spreading holiday joy. Stopping in 25 cities across the U.S., Santa's National Tour will give children the once-in-a-lifetime opportunity to meet the man himself.