CIFW to organize All India Model Auditions at Le Meridien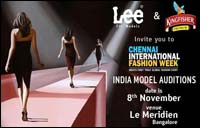 Chennai International Fashion Week, the magnificence platform which arduously works toward discovering new talent from across the world and presenting them in a distinguishing international set up is organizing an All India Model Auditions in Bangalore on November 8, 2009. The auditions will be a one day affair to identify faces with attitude; flair and lot of oomph who will superbly cat walk the runway for the most creative talent showcasing at the most prestigious Chennai International Fashion Week.

CIFW's all India model auditions organized at Le Meridien, one of the finest five star hotels in Bangalore, with the official sponsors Lee – 'Fit Models' & Kingfisher Premium, the auditions are open to all new and aspiring models in the country. This All India Model hunt for Chennai International Fashion Week is spearheaded by an eminent panel of jury comprising of members from the fashion and film fraternity. The jury board includes distinguished personalities like: Anupama Verma - Super Model, Actress & Fashion Producer, Mehar Bhasin – Fashion Choreographer / Grooming Expert, Pravin Talan – Celebrated International Photographer, Atul Kelkar – Consultant, Rahul Dev Shetty – Fashion Model / Choreographer.

The auditions will start @ 9:30 am on Sunday, 8th November '09 and more than 200 modelling enthusiasts are expected to participate from all over India. The jury members will perform the intricate task of finding "the right" skill in both male and female through several rounds of brilliant walks on the runway and shortlist the most applicable and befitting models for this India's first truly global fashion event.

Speaking on this occasion, Anupama Verma said 'Not every struggling model knows the roads into the modeling circuit. Auditions help provide a platform for a fair selection. Auditions give a platform where talent gets noticed, appreciated and rewarded. We can't get to everybody but everybody can get to us. Plus it is an opportunity to present modeling world with debut faces."

According to Rahul Dev Shetty, "during model auditions, I am looking for someone who is, fresh, vibrant, young and confident. The model need not be pretty but must have attitude, good height and proportionate attractive body."

Chennai International Fashion Week will take place @ a luxury destination – Le Meridian Hotel in Chennai. It will be one of the most prominent fashion weeks organized where both Indian and International fashion will converge.

About Chennai International Fashion Week (CIFW):
CIFW has been formed to give Indian designers an international platform to showcase and market their collections to the world media and fashion professionals globally. It is also aimed at showcasing India as an important fashion destination for foreign buyers and designers' wanting to make Southeast Asian market in roads.

30 Indian fashion designers, 10 International guest designers, 35 fashion shows,60 models from India and abroad, will be present at the first truly global fashion event in India being held at virgin location – Chennai.