You're sure to fall in love at Pure London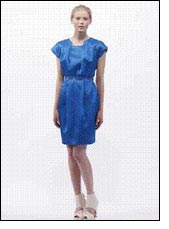 Buyers and retailers across the globe can celebrate your love and passion for fashion this valentine's day at Pure London. With 90% of visitors stating that Pure London is the best UK fashion trade event, it is a must visit in every fashionista diary! This season the show will house Autumn/Winter 2010 collections at London Olympia from 14th – 16th February. The exhibition will present over 900 of the industries most creative, luxurious, must have brands. February's show will aim to mirror the energy and buzz surrounding August's event with a range of exciting new brands, designers, features and sections.

Top designer label Calvin Klein will be exhibiting at the show for the first time with their Autumn/Winter 2010 womenswear and accessory collections.

Luxury brand John Smedley will be making a debut with their quintessentially British brand. Presenting an impressive range of fine knitwear, adored by A-listers across the world including Madonna, Tom Cruise and Nicole Kidman; it is a must see.Charlotte Foy, Marketing Manager commented 'John Smedley are delighted to be participating at the Pure London Show. The John Smedley womenswear collection for Autumn/Winter 2010 is a superb mix of sophisticated pieces and more contemporary styles in a great colour palette of smoky darks and interesting brights. We see Pure London as a showcase for our womenswear range to appeal to a new audience of customers, as well as our existing buyers, as being the best in class when it comes to fine fully fashioned knitwear.'

Also new to February, Preeti Chandra will be showcasing her stunning collection of feminine, floaty dresses and gowns. Preeti began her career in New York in 1996 and upon her return to India launched her self-labeled collection of designs which reflect her life and personality.

After recently shooting their new campaign with young UK superstar Pixie Lott, SuperTrash will be returning with their high fashion collection. UK designer Olivia Rubin will also be back with her signature prints, while after a successful show in August, Maison Scotch will return with a new home in the directional section. 'The UK launch of Maison Scotch at August's Pure London was a tremendous success. We had both new and existing targeted accounts on the stand, and the aim is to come back in February even bigger and better.' Commented Dan Gilmour, PR Manager of Maison Scotch.

Returning to Pure London after a short break will be Esprit,Noli, Lysgaard and Intown. These top womenswear brands will be back in the directional section alongside favourites Aftershock,Turnover, Goat and James Lakeland.

The rebranded Boutique section will now only include leading evening and occasion wear labels such as John Charles, Anoushka G, Ian Stuart London, Tony Bowls and Ispirato. Buyers will be able to take a break from the buzz of the show and relax at the ztunning Boutique Bar.

February's Pure Spirit line up is guaranteed to demonstrate the UK's most vibrant and creative labels for young fashion buyers around the world. The section will continue to showcase unisex, mens and women's young fashion and street wear, with a newly designed catwalk. Top regular brands to the show Rare, Motel, numph, Max C, People's Market, Darimeya, Desigual, Gia London and Vacant will sit along side newcomers Mink Pink who will be bringing their pretty pieces inspire by high end designers and vintage street style, Fly London who will be launching their womenswear collection and ASOS favourite, Love Milly. Returning brands include M by M, Deby Debo, Fairground will be back with their new collections.