10th Dongguan China Shoes, China Shoetec – successful events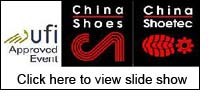 Co-organized by China Chamber of Commerce for Import and Export of Light Industrial Products and Arts-Crafts (CCCLA), Messe Dusseldorf China Ltd. (MDC), Adsale Exhibition Services Ltd., and Guangdong Modern Convention and Exhibition Management Co., Ltd. - The 10th Dongguan China Shoes. China Shoetec (Autumn 2009)closed in success on Oct 30, 2009 at GD Modern International Exhibition Center, Houjie, Dongguan, PR China.

The 3-day exhibition attracted 15,058 buyers and visitors from 70 countries and regions, of which 20% were from overseas. As an UFI-approved event and the only specialized footwear exhibition in Dongguan, Dongguan China Shoes.China Shoetec has fortified its position as a premier one-stop sourcing platform for middle-to-high end footwear, materials and machinery in Asia and again received wide recognition from exhibitors and visitors. With the gradual recovery of macro economy, the event has opened a window for footwear industry to explore the industry's current situation and future trends and for exhibitors to showcase trendy collections.

Exhibitors Participated with Confidence in Market
Covering 20,000 square meters, the exhibition drew 488 local and overseas exhibitors to participate. Hong Kong Footwear Association, China Chamber of Commerce for Import & Export of Light Industrial Products and Arts-Crafts (CCCLA), Taiwan Shoe Machinery Association, Dongguan Shoe Material Association, Dongguan Leather & Footwear Association, and Dongguan Shoe Machinery Association have organized pavilions at the show.

The majority of exhibitors were satisfied with the exhibition, Hong Kong Footwear Association pavilion expressed that the quality of buyers was enhanced. Qisheng Shoes Co., Ltd has achieved good results by showcasing their men's shoe brand,"TIBAO AUCHEHO". Representative of Qisheng said, "Our brand awareness was increased, we have reached some potential buyers and enlarged our sales in domestic market through this exhibition".

General manager of machinery maker Yili told that they were quite happy with the exhibiting results by receiving many enquiries from potential buyers with clear purchasing intention and they plan to enlarge their booth size to nearly double in next edition.

High Quality Profile of Exhibitors Appreciated by Buyers
Special zones for shoe materials, shoe machinery, leather,kids' shoes, brand shoes and stock shoes were set up to facilitate buyers' visit and the matching between buyers and exhibitors. In addition, "Brand Shoe Gallery" made its debut to showcase exhibitors' brand shoes and the awarding shoes of design competitions held by the member countries of International Footwear Conference. The buyer from Congo showed appreciation on the innovation of "Brand Shoe Gallery" which offered him an opportunity to view the unique featured design of different countries and keep him posted with the latest brands and designs of exhibitors. The exhibition attracted over 15,000 buyers and visitors who showed recognition and appreciation to the professionalism of the exhibition.