Lustrous gathering of international fashion brands at World Boutique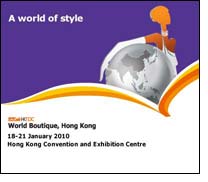 The 8th edition of HKTDC World Boutique, Hong Kong will stimulate the market with new collections and fresh designs next January. Taking place concurrently with Asia's largest fashion event,HKTDC Hong Kong Fashion Week for Fall/Winter, 18-21 January 2010 at the Hong Kong Convention and Exhibition Centre, World Boutique, Hong Kong will gather garments, accessories and lifestyle products from around the globe.

At the last event, over 450 brands brought their latest collections to World Boutique, Hong Kong with the highest number of exhibitors recorded. For its 2010 edition, the star power of Vivienne Westwood will be a highlight. The full impact of the exciting Vivienne Westwood brand will be experienced in a runway show of the label's latest collection. Added to that, the CreativeDirector of Vivienne Westwood, Andreas Kronthaler, will attend in person. Mr Kronthaler, who is also Dame Westwood's husband, is a creative force in the British company, overseeing the seasonal collections of four clothing ranges as well as handbags, jewellery, footwear and eyewear. The brand's presence at World Boutique, Hong Kong will include a seminar and Mr Kronthaler has consented to be a VIP judge for the Hong Kong Young Fashion Designers' Contest.

MANGO, the Spanish fashion export brand with great presence in international markets, will also join the 2010 edition of World Boutique, Hong Kong for the first time. Having opened its first store in Barcelona, MANGO was one of the first western fashion brands to enter the Chinese mainland market. The brand's confidence in the Chinese mainland market is evident with the establishment of corporate flagship stores in first-tier cities such as Beijing and Shanghai last year. MANGO's effort on consolidating its business in China is paid off with an increase in sales and brand awareness. At an exclusive seminar, Mr Isak Halfon, MANGO's Board Member and Executive Vice President of International Expansion, will come to Hong Kong to share the brand's success story and their business horizons in Asia, especially in Chinese mainland.

Another extremely exciting debut at the 2010 World Boutique, Hong Kong is The Underground Quarter by Londonedge, which will introduce an innovative group of British, European and US exhibitors on the cutting edge of fashion. Alternative, street, rock and cult merchandise will add a unique flavour to the fashion event. This will be the Far Eastern outreach for the UK's Londonedge and Londoncentral trade shows, dedicated to alternative fashion. The Underground Quarter 2010 is expected to be the first group exhibition of alternative fashion in Hong Kong with huge potential to grow.

World Boutique, Hong Kong 2010 continues to receive the support from the Taiwan Textile Federation, which will have a group pavilion again. The Hong Kong Fashion Designers Association(HKFDA) is also having its largest participation ever, showcasing the works of 18 local designers. HKFDA's fashion show on 21 January will be another highlight of World Boutique, Hong Kong.