AAFA sights set on 2010 educational programs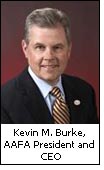 The American Apparel & Footwear Association(AAFA) wrapped up its year long effort to keep the U.S. apparel and footwear industry in front of major challenges and emerging issues currently confronting the industry. Planning is currently underway to continue an aggressive and diverse educational program to benefit U.S. brands, manufacturers, and retailers.

"2009 was a tough year for the U.S. apparel and footwear industry," said AAFA President and CEO Kevin M. Burke. "Along with the obvious economic downturn and reduced consumer spending, our industry was forced to overcome increased regulation from Washington, D.C. These new regulations, like the Consumer Product Safety Improvement Act (CPSIA), required the makers of clothes and shoes to revisit their supply chains and rethink their manufacturing processes so they could continue producing safe and affordable products and meet new compliance standards."

"In order for our industry to quickly learn about these new standards and adapt their manufacturing processes, AAFA stepped up and led and industry-wide educational program that touched every link in our supply chain," said Burke. "We took unprecedented steps to go beyond the C-suite and hit factory floors all around the world. AAFA led seminars in the United States, China, and India to help producers maintain their commitment to product safety."

"The U.S. apparel and footwear industry demonstrates a clear commitment to product safety," said AAFA Vice President for Industry Relations Mary Howell. "With each quality program we held – either on the East Coast, West Coast, or abroad – key industry decision makers were eager to get back to the office and start implementing new ideas and proven strategies.We look forward to continue being the go-to source of information for the U.S. apparel and footwear industry in the years ahead. 2010 is already shaping up to be a dynamic year of industry education."

Product Safety Hits Home
With the implementation of the CPSIA, AAFA launched an aggressive outreach strategy to help put apparel and footwear brands, suppliers, and retailers in full compliance with the law, including a recent update to AAFA's highly anticipated Restricted Substances List. Through the course of more than 16 in-person conferences hosted all over the country and online webinars, AAFA laid the ground work educating company headquarters about the new standards. As a result, AAFA formed an industry-based product safety network in the AAFA Product Safety Council aimed at sharing best practices and solving problems.

The Safest Supply Chain in the World
Because safety is engineered into a product in the design phase, AAFA also took this important message to the production start of the supply chain. Through collaboration with global apparel and footwear industry stakeholders, AAFA elevated industry product safety education to an international level.