Design am Rhein showcases fashion avantgarde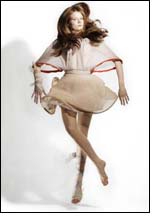 Today's up-and-coming young fashion designers create tomorrow's collections. In times where most consumers lose themselves in mainstream fashion it is all the more important to reach out for new dimensions and provide extraordinary impulses.

"Design am Rhein", the contest organised by the Igedo Company in cooperation with the Fashion & Design Academy (AMD Akademie Mode & Design Düsseldorf), is the stage for young and independent spirits whose inspiring and visionary ideas for tomorrow's design are sure to also fascinate the audience again in 2010.The fashion on display here is nowhere to be found at big department stores; these young designers play a pioneering role and are just waiting to conquer the big international fashion markets with their creations.

While this coming February will already see the next ten finalists awaiting the great opportunity to present their designs to an international audience, needless to say the winners of the 2009 contest will also be looking forward to presenting their collections at a high level at cpd from 7 – 9 February 2010.

The new 2010/11 Winter collection by ANTONIAGOY is a powerful interaction between nature, geology and archaic animal kingdoms. The topicality of this theme in everyday life has inspired the "genesis" of this collection just as much as the admiration for the fascinating structures of our planet. Large-repeat, "estranged" landscapes are featured in 2D prints, 3D lamella-type, braided and woven designs while relief-type padding reflects the "armoured" exteriors of dinosaurs, the earth's crust breaking open or geological fault lines. Silhouettes develop from the smallest of detail to an impressive whole with independent structures composed of tapes and slit surfaces.

The transposition is modern. Prints on flowing silk, textures in wool cloth, loden and double-face fabrics form the "rough" contrasts to supple interlock fabrics in pure wool and soft jerseys. The colour scheme ranges from shadow tones, dark black, rust, mud, dark green and dark blue to the powdery pallor of light grey, skin and cream highlighted with yellow and red. Surprising us this produces casual evening dresses as well as freely combinable tops, dresses, jackets and coats.Unconventional yet elegant.

The fashion label kimberit by designer Kim Berit Heppelmann does not work on the basis of seasons but understands fashion as an art medium. At present she is developing the second series of the collection 'Écouture – "The Dynamic of a Dress" II' which will be presented at cpd in February for the first time. The "Haute Couture" collection will be extended to include accessories, a dress coat and jackets.

The first series of 'Écouture – "The Dynamic of a Dress"' already received several international awards following its successful debut at the last cpd. With this series kimberit made it to the final round at Berlin's 'CREATEUROPE' organised by the Goethe Institut, was nominated for the 'COLOGNE CAT WALK' in Cologne and won the New York 'Styles 2009 Competition' as part of 'GENART'.