FIMI reaches its 70th event facing new challenges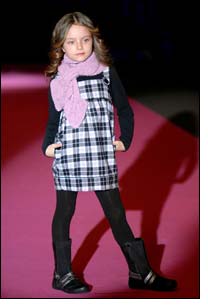 FIMI, the International Children's and Young People's Fashion, presenting all the new introductions for the Autumn Winter 2010-2011 season, is now celebrating its 70th edition, making it the only trade event in Spain representing an industrial sector to reach that significant figure.

FIMI is held concurrently with the International Babycare Fair, 'Zero to Four, together forming Spain's only commercial platform, and one of the most important in Europe, to cover the whole world of children. Holding these fairs conjointly has been a priority, responding to recommendations from Asepri (Spanish Manufacturers Association of Children's Products). More than 600 brands are taking part in FIMI and the International Babycare Fair, comprising a global product range for children's market.

This 70th edition, to be held in Hall 6 at Feria Valencia, is conceived to further reinforce the value of products. The new format and the new design for the event could already be seen at the last edition of FIMI, held in Summer 2009. The project revolves around the creation of a single space where the commercial show is held alongside the many tie-in activities, enhanced in the new Active Spaces section.

Between 6,500 and 7,000 trade visitors are expected to attend FIMI from January 22nd to 24th, coming from all over Spain and from further afield, mostly from Belgium, Brazil, France, Germany, Greece, Holland, Ireland, Italy, Mexico, Morocco, Poland, Portugal, Romania, Russia, Saudi Arabia, UAE, UK, Ukraine, USA …. Many of these visitors are travelling as part of our trade missions program.

FIMI is focusing on its international profile with a view to presenting a comprehensive overview of children's fashion at the fair. This internationality is well demonstrated with the participation of around 225 exhibitors. Another key factor at FIMI is its close collaboration with commercial agents, absolutely essential for the proper development of a fair of this kind.

FIMI is preparing a series of tie-in activities, including a window dressing workshop organised by Asepri. A key tool to achieve the best results at points of sale.

SEE ME is back at FIMI
See Me is a section devoted to new trends introduced at the last edition of FIMI with a mandate to provide alternatives in children's fashion, footwear and accessories brands. "The brands on view at See Me covered the whole of the Spanish market. They placed their faith FIMI's new project and, after making new clients and taking many orders, they have confirmed that they will be back again in January" says Pepa Ortiz, director of FIMI. In this 70th event, this section will be of special relevance given that exhibitors at SEE ME will be located at the entrance to the show. Thanks to a selection of brands with great style and a powerful aesthetic content, SEE ME offers the contemporary cutting-edge image of children's fashion.