Designers to showcase 'ecochic' fashions for Biodiversity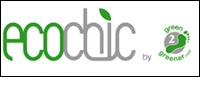 More than 500 prominent figures from government, international organizations and the fashion and cosmetics industries will meet in Geneva at the Palais des Nations on 20-21 January to call for action against the rapid loss of the world's biodiversity.

The 2-day programme - being co-organised by UNCTAD and Hong Kong charity Green2greener in celebration of the United Nations 2010 International Year for Biodiversity - will commence with a high-profile business seminar to discuss the role that governments, businesses and consumers can play in promoting and supporting biodiversity conservation and the sustainable use of natural resources.

It will conclude with a spectacular fashion show and exhibition launch celebrating sustainable fashion and accessories presented by Green2greener. The show will include over 50 looks that have been donated by fashion designers from around the world, including renowned figures Diane von Furstenberg, Manish Arora, Bora Aksu and Thakoon.

The EcoChic Geneva Fashion Show will demonstrate how the fashion industry can inspire greater engagement in biodiversity conservation and raise awareness about the broader sustainability debate. The show will feature Eco-Couture and Sustainable Ready-to-Wear. Internationally renowned designers such as Nathan Jenden and John Rocha, together with rising stars such as Alexandre Herchcovitch, and Zhang Da will design and present clothes made from sustainable textiles. Meanwhile, established 'sustainable' fashion labels such as EDUN, Noir, Ciel and Kumvana Gomani will contribute garments and accessories from their latest collections.

Contributing Eco-Couture designers were briefed to create a dramatic showpiece look drawing on their country's myths and folklore. Within the brief, designers were free to create whatever garment type they preferred but asked to choose from three colour tones, black, white/cream and red. All fabrics used in the show will be made from natural fibre and manufactured in the most sustainable and ecologically-sensitive way as possible.

Set to appear on the runway are Summer Rayne Oakes, model and sustainability strategist and Kate Dillon, model and MPA international development.

In the build-up to the show, designers voiced their desires to see the fashion industry become more sustainable. "I'm supporting the event because any attention to this green cause from the fashion community is a must. I hope the fashion industry will continue to develop sustainable natural options for consumers. It is both interesting and exciting. My primary goal was to create a dress that is beautiful first, and it is even more beautiful because it is 'ecochic'. It is always nice to participate in something that is good for our world and the environment," said Thakoon Panichgul.

The EcoChic Geneva Exhibition, which will be open for two weeks after the fashion show at the Palais des Nations, will explore the multi-faceted nature of sustainable fashion. In particular, it will focus on how the fashion and cosmetic industries can contribute towards biodiversity conservation as well as provide social and economic benefits for communities in developing economies. Through a range of creative displays of fashion garments, accessories and cosmetics, the exhibition will examine the journey from raw material to finished product and address the many issues that consumers, marketers, designers and product developers engage with as they look to embrace more sustainable lifestyles.