Opposites attract this spring!!!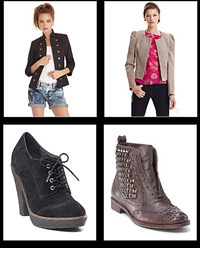 Opposites attract this spring as unexpected pairings rule the runways. Divergent style themes such as tender & tough, sexy & demure, glamorous & sporty and preppy & punk express the multiple dimensions of a modern woman's lifestyle. By reworking classic favorites with a punk edge, a feminine touch or a sporty detail, a whole new wardrobe can be created.

Shorts and trench coats top the list of hot spring items and dresses reappear with ruching, cutouts and sheer layering, creating a feminine look with an edge. Color palettes range from khaki earth tones to vivid citrus colors, and contrasting black with white and gold with silver also make statements this spring. Overall, embellishments on clothing and accessories transform last season's styles and add personality to any spring wardrobe.

"This spring bold new looks are created by wearing unconventional pieces together," said Stephanie Solomon, operating vice president for fashion direction at Bloomingdale's. "It brings a smile to my face thinking about all the versatility and creative freedom women will have by mixing this season?s hottest trends, from Aqua to Chanel, with pieces they already own."

Spring 2010 Ready-To-Wear Trends:
Jeggings - A combination of jeans and leggings, it's the new way to wear denim. J Brand and Daddy Long Legs lead the way this spring.

Shorts and Miniskirts - Shorts are to spring what leggings were to fall. Keeping hemlines high, shorts and miniskirts from designers such as Milly, Alice + Olivia, and Bloomingdale?s own Aqua line lead the trend for both day and evening looks.

Boxy Jackets - The oversized, slouchy blazer of seasons past is making its way out as the structured, embellished jacket edges its way in. Chanel's signature boxy jacket shines, looking fresh in tweed and trimmed with subtle fringe.

The New Suit - Spring is the time to ditch the traditional pant and skirt suits for jackets paired with shorts. This trend highlights opposites, pairing causal bottoms with structured jackets as seen at Giorgio Armani and DKNY.

Easy Cargo Pants - Worn slouchy at the hip and with a pegged leg, this trend appears as a transformation of last spring?s harem pant. This sporty look fares best when worn with a contrasting glam top or loose-fitting blazer as seen on the runways of Elie Tahari and D&G.

Striped Bateau and Cropped Tees - The story is striped at Jean Paul Gaultier, Missoni, and a new designer to Bloomingdale's, Araks. The new, cropped silhouette allows for easy wear and looks best when layered with another tee in a contrasting color.

Bad Girl & Good Girl Dresses - From rebellious details, such as cutouts and patchwork, as seen at BCBG and Emanuel Ungaro to romantic ruching and pleats, at Alice + Olivia and Diane von Furstenberg, these contrasting themes make it easy to find a frock to wear with the in-laws and the outlaws.

The Trench - Worn long, short, belted or ruffled, the trench coat is the capstone piece to any outfit. Burberry and Yigal Azro?el showed how to wear it best, adding a sporty edge to a ruffle dress or casual sportswear.