Mercedes-Benz Fashion Week to be completely carbon neutral event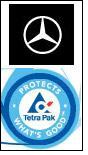 As the fashion world turns its attention to the Tents at Bryant Park, this year marks the first time that Mercedes-Benz Fashion Week in New York City will be a completely carbon neutral event.

In an initiative underwritten by leading carton packaging manufacturer Tetra Pak, and supported by Tetra Pak's customer and natural beverage supplier O.N.E. Natural Experience, Mercedes-Benz Fashion Week will be using a combination of emission reduction activities and carbon offsets to ensure its emissions are reduced to net zero. The carbon offsets will be purchased from a long-term forestry management project at The Big River/Salmon Creeks Forests in Mendocino, CA, as well as sustainable sourcing of local natural gas at two dairy farms in Idaho.

Tetra Pak, O.N.E., IMG Fashion (the company producing Mercedes-Benz Fashion Week) and The CarbonNeutral Company announced the initiative at a press conference in New York. The CarbonNeutral Company performed the assessment and data measurements, and granted permission to display the CarbonNeutral mark – signifying that Mercedes-Benz Fashion Week's carbon reduction program has been implemented in accordance with The CarbonNeutral Protocol.

"Tetra Pak is committed to business practices that protect resources for future generations and the future of our business," said Carla Fantoni, vice president of communication and environment for Tetra Pak Inc., U.S. and Canada. "We bring that commitment to everything we do, including our partnership and involvement with Mercedes-Benz Fashion Week. We believe that climate change is a global responsibility and we hope that by making such an iconic and influential event carbon neutral, others will follow suit and help protect our resources for the future."

Joining Tetra Pak in celebrating the initiative, Rodrigo Veloso, founder & CEO of O.N.E. said, "We are thrilled to be back at Mercedes-Benz Fashion Week as the official beverage sponsor. As a company deeply committed to the environment, we commend Tetra Pak for championing this important carbon initiative and fully support their efforts at this trend-setting event."

As a result of the initiative, nearly 1,000 tons of carbon emissions will be offset, helping Mercedes-Benz Fashion Week take responsibility for its carbon footprint by supporting the adoption of low carbon technology elsewhere which will help the world reduce greenhouse gas emissions.

Fern Mallis, senior vice president of IMG Fashion, noted that the initiative is a historic first for Mercedes-Benz Fashion Week in New York. "We are delighted and proud to work with Tetra Pak and O.N.E. on environmentally responsible initiatives that help set an example in the fashion industry and beyond."

Tetra Pak and IMG Fashion partnered with leading provider of carbon reduction solutions, The CarbonNeutral Company, to measure and certify the project. The awarded certification signifies that CO2 emissions produced by Mercedes-Benz Fashion Week have been measured and reduced to net zero. The reductions can be both 'internal' (e.g. a change to a process that will cut emissions) and 'external' (commonly known as 'carbon offsets).