Emilee Koss & Carrie Holter win Make It With Wool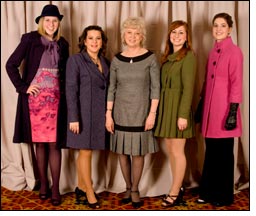 Much like the music created in Nashville, Tenn., weaves a fundamental pattern in the city's cultural fabric, the participants of the 62nd annual national Make It With Wool competition constructed patterns to create their own woolen works of art. The contestants presented their winning ensembles at the American Sheep Industry Association (ASI)/National Lamb Feeders Association annual convention on Jan. 23. The designers taking top honors at this year's national competition were Emilee Koss of Clarence Center, N.Y., and Carrie Holter of Jefferson, Md.

Koss won the title of First Place Junior 2010 Wool Ambassador by being inspired by fashions from the past. She chose to make a classic, knee-length coat with pockets and top-stitched princess seams. In addition, she constructed a sleeveless hot-pink dyed wool-fabric dress, which was the inspiration for her ensemble. Koss has been sewing since the age of 6 and hopes to have a career in fashion. In addition to other prizes, Koss's winnings included a $1,000 scholarship from Pendleton Woolen Mills and a $500 scholarship from ASI Women. The junior division was open to youth ages 13 to 16.

Holter, a four-time national Make It With Wool contestant, was selected as the First Place Senior 2010 Wool Ambassador. She constructed a fuchsia wool-cashmere blend coat featuring Hong Kong seam finishes and an asymmetrical bound buttonhole closure for a couture look. The trendy short black-and-white houndstooth jacket with flounce in back and princess seaming in front compliments the flared black pants and fuchsia wool gabardine camisole-style top. Among other prizes, Holter's first-place winnings included a $1,500 scholarship from ASI Women. The senior division was open to youth ages 17 to 24.

Marija Crockett of Atchison, Kan., and Emily Parks of Bloomington, Ill., won First Runner-Up Junior Division and Senior Division, respectively. Crockett constructed a fitted jacket with a front-button and snap closure, topstitched princess seams and a pleated peplum and a fully lined black skirt with an invisible zipper. Parks, using a deep purple 100-percent wool crepe, created an evening dress with a basic sweetheart bodice in which she manipulated the fabric by making dozens of rows of tucks and stitching in the opposite direction to make diamond-shaped rows.

Rachel Dyky of Baltimore, Md., was named the 2010 National Make It With Wool Adult Winner. A lined and trimmed dress and jacket made of Pendleton wool created her winning ensemble. Piping was added to the Butterick jacket pattern and onto the neck and arm holes of the Simplicity dress to coordinate the pieces. A bound buttonhole was the finishing touch on the jacket. As part of her winnings, Dyky won an all-expense-paid trip to the national competition in Nashville.

The winner of the Fashion/Apparel Design Award was Jaclyn Rehberg of Brookfield, Wis., a fashion/apparel design student at Mount Mary College in Milwaukee, Wis., whose coat she designed and made is a modern take on a classic color and style. She created an Army green double-breasted wool jacket with an overlapping "Peter Pan" collar and attached knife pleats at the waist to create a skirt effect. The pattern was made by draping techniques and was created exclusively by Rehberg in her tailoring class. Rehberg's winnings include a $1,000 scholarship for her winning outfit from the American Wool Council and an all-expense-paid trip to the national competition.