ispo 2010 continues to grow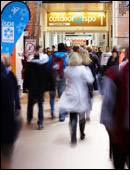 During its 70th run from February 7th to 10th, 2010, and its 40th year, ispo once again expanded its position as internationally leading sports business network. Top international industry, sports, media, commerce and government representatives came together in Munich, and experienced an event which far exceeded expectations. Exhibitors as well as visitors rated ispo 10 as very good.

The atmosphere in the exhibition halls was extremely positive, sometimes even enthusiastic, thanks to the very promising winter season as well as the extensive, high-quality selection of products. The exhibitors were particularly pleased with the high amount of visitors. In addition, the new Opinion Leader concept received positive feedback. Visitors particularly enjoyed the new exhibition hall layout. The bundling of themes in the different halls optimized navigation and decreased access times.

After four days the 70th ispo closed its doors with excellent exhibitor, visitor, and exposition space statistics. More than 64,000 international visitors from 177 countries came to preview new trends and innovations. This is a new visitor record and represents an increase of close to 7 percent compared to the prior year. 68 percent of visitors came from abroad, an increase of about 2 percent compared to last year. The strongest foreign visitor contingents hailed from Italy, Switzerland, Austria, France, Great Britain and Northern Ireland, Spain, the Netherlands, the Korean Republic, the Czech Republic, and Sweden. 2,045 exhibitors from 45 countries registered for ispo, which represents an increase of 5 percent.

The event also experienced growth in terms of exposition space; compared to the prior year, the net used space increased by close to 2 percent to 89,000 square meters, and covered 15 halls at the New Munich Trade Fair, corresponding to 175,000 square meters.

Klaus Dittrich, Chairman of the Management of Messe München GmbH: "We are very pleased with the excellent results of our anniversary event, ispo 10. The numbers clearly show how strong this international sports business network is. Even after 4 decades ispo remains the "place to be" for the global sporting goods industry. In the future we will continue to expand our position with innovations and new concepts, like the ispovision and Opinion Leader concept."

Statements:
Armin Fuchs, General Manager Amer Sports Germany: Our booth was very busy. Visitors were extremely interested in our products and innovations. Our strategy, to offer a comprehensive product selection for every winter sports athlete, impressed and pleased retailers.

Bernd Kuhlmann, General Manager Deuter Sport: Brilliant platform for the Outdoor industry. We are very pleased, felt very well represented, and there was a great atmosphere. In the first three days it was extremely crowded, and our booth was always busy.