Fantasy-inspired color combinations invigorate the fall palette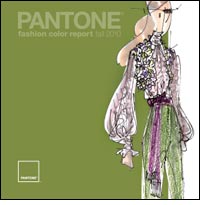 Pantone LLC, an X-Rite company and the global authority on color and provider of professional color standards for the design industries, announced the PANTONE Fashion Color Report Fall 2010. The report features the top 10 colors for women's fashion for fall 2010, along with designer sketches, quotes and headshots, and is available for free download on the Pantone Web site at www.pantone.com/fall2010. The release of the PANTONE Fashion Color Report coincides with the beginning of New York Fashion Week.

The top colors for women's fashion for fall 2010 are:

PANTONE 13-0632 Endive
PANTONE 15-1050 Golden Glow
PANTONE 16-1546 Living Coral
PANTONE 19-1764 Lipstick Red
PANTONE 18-3027 Purple Orchid
PANTONE 19-1526 Chocolate Truffle
PANTONE 16-5418 Lagoon
PANTONE 18-0538 Woodbine
PANTONE 14-1107 Oyster Gray
PANTONE 14-1307 Rose Dust

"Mindful of consumers' need for practicality, plus their desire for newness, designers offer many options for women to extend and embellish their wardrobes this fall," said Leatrice Eiseman, executive director of the Pantone Color Institute. "Building on the color palette from spring, this season's offerings include innovative takes on fundamental basics, as well as transporting, lively colors that conjure images of travel and adventure, whether real or aspirational."

In addition to designer contributions, the report features commentary from fashion insiders and leading retailers regarding current fashion trends and new color rules for 2010. Industry gurus highlighted in the report include: India Hicks, creative partner at Crabtree & Evelyn; Cate Adair, costume designer for "Desperate Housewives"; Collier Strong, celebrity make-up artist; Eric Sauma, owner of Mood Fabrics (featured on "Project Runway"); and Constance White, style director at eBay. Contributors from Neiman Marcus, Saks Fifth Avenue and Macy's also offer their insights.

Fashion designers continue to exhibit a degree of caution for fall 2010, yet offer a palette of beauty and excitement with a blending of colors, some with similar undertones, in surprising and intriguing combinations. Inspired by the ongoing phenomena of film animation, vivid colors are often juxtaposed in inventive ways, creating arresting and extraordinary color combinations.

Exotic Purple Orchid, a purple leaning to fuchsia, is an unexpected choice for fall, imbuing a bit of magic and vibrancy to the season. Elegant Chocolate Truffle, evocative of delicious treats, is a rich brown with piquant plum undertones, that pairs tastefully with Purple Orchid. Not your mother's avocado green, Woodbine takes last season's neutral greens to a whole new level, and when mixed with Purple Orchid and Chocolate Truffle, results in a stunning combination.

Lagoon, this season's turquoise – Pantone's 2010 color of the year – is guaranteed to add a tropical splash. A great color for fall and winter escapes, Lagoon is a popular hue, especially in accessories, pairing dynamically with all shades of red. Lipstick Red, a deeper, more dramatic sensual red, makes its imprint on fall, particularly in cosmetics.