Make a cool style statement with Esprit this season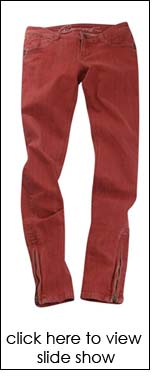 Esprit, the international youthful lifestyle brand announces the launch of their SS'10 collection to celebrate the onset of the season. Esprit SS10 collection is high on fashion, full of colour and all things fine. Ooze glamour and sophistication in Esprit stunning styles from the different range- men and women casual wear, men and women edc range and also a wide range of men and women special line which can dress you effortlessly for every occasion-from boardroom to beach, from party to weekend getaway in style.

'Esprit Women Casual' makes a spring statement with oversized sweats, parkas or extra long blazers with slim leggings revealing a look of pure comfort that puts inspiration from distant lands into an urban-athletic context. The line gets a feminine statement with gypsy or tunic-style dresses as well as a revival of the skirt. Cropped pants, chinos and boyfriend jeans are absolute summer must-haves with feel-good appeal. Clear, rich colour combinations such as juicy orange, bright pink or tomato red with grass green help to beat the heat this summer.

'Esprit Women collection' got the theme inspired by global travelling; the 2010 Spring/Summer range is both contemporary and versatile, ranging from architecturally defined shapes to luxurious summer party looks. Experiments with feminine and masculine elements redefine business wear with elegant single-breasted blazers, trench coats, feminine blouses, and safari-themed jackets which give the line a cool sense of confidence for breezing through the summer heat. Colour for the season flows as smoky pastels, warm bicolours, tinted grays, and bright coral red make a fashion statement.

'Style' is the word for Esprit EDC this summer. It presents a cool culture clash for the season. The basic elements of the look include ethnic styles, Wild West accents, beach culture, and bohemian looks. Oversized soft jersey T-shirts, bandeaus, and leggings are this summer's must-haves. New denims take on the leading role for summer 2010 with slim silhouettes in bright, extra-light washings and vintage destroyed effects for that worn-in look. This summer may mean crisp whites – but innocent? When washed berry tones are paired together with light yellow and green nuances, not a chance!

Esprit Men Casual presents a season filled with adventure and cool outfits. 'Relax in Style' stands for looks that fit in where summer's at its best when casual field jackets, innovative blouson shapes and denim jackets ensure a look that's both athletic and smart, and serve as the perfect companions for the next open-air gig at the park. Used washings give round-the-clock basics such as Bermuda shorts and T-shirts an authentic, worn look. The colour scale plays with the latest green tones complemented by new shades of purple along with summer darks, brown and beige.