11th HK Jewellery Design Competition winners announced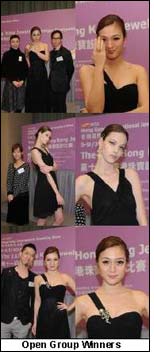 The winners of the 11th Hong Kong Jewellery Design Competition were announced today at a press conference held at the Hong Kong Convention and Exhibition Centre.

In the Open Group, three Best of Show prizes were awarded, including "Brain Storm," a ring featuring a cluster of diamonds surrounded by spiraling conical shapes. Designed by Yuen Che Wai, who was sponsored by Tse Sui Luen Jewellery Co Ltd, the piece also earned a Craftsmanship and Technology Award. The other two Best of Show awards went to Ko Wing Yu and Chan Wen. Ms Ko, sponsored by Golden Master Jewellery Ltd, won for "Passion," a set of earrings representing fish swimming in a pond.

Mr Chan, sponsored by Rio Pearl, designed the winning brooch, "Hanging Moon," using cloud-like baroque pearls to set a natural scene of clouds in the sky. Hong Kong Institute of Vocational Education (Lee Wai Lee) student Po Tsz Shan took top prize in the Student Group category with "Parent and Child," a pendant creation featuring the image of a "fish mother with her babies at the centre." The design incorporates a whirlpool, representing flowing water, which, said Ms Po, "reflects the endless cycles shown in the ecological world." Student Category first runner-up honours went to "Circulating," designed by Daisy Chan, while the second runner-up was "Nice Flower with Round Moon," designed by Lam Hoi Kiu. Both are also students at the Hong Kong Institute of Vocational Education (Lee Wai Lee).

After a Fashion Speaking at the press conference, Hong Kong Trade Development Council (HKTDC) Deputy Executive Director Benjamin Chau noted that jewellery is no longer the sole prerogative of the high-end market. He said jewellery "now closely follows trends in fashion, allowing the industry to also target the younger, middle-income market segment, often in the form of branded jewellery." Organised under the theme "Jewellery without Boundaries," the competition awarded cash prizes and certificates to the winners. Best of Show awards in the open group include five-day training courses organised by Japan's Hiko Mizuno College of Jewellery and sponsored by the Hong Kong-Japan Business Co-operation Committee.

The Hong Kong Jewellery Design Competition encourages new ideas in jewellery design and enhances the quality of local design. Entries were judged on their creativity and innovation,aesthetics and craftsmanship, marketability, wearability and topic relevance. Contestants were asked to create innovative designs that break conventional boundaries, while enhancing the charm and glamour of fine jewellery. Judging the competition were fashion designer Barney Cheng, jewellery designer Cally Kwong and representatives from the jewellery and watch industries. The competition is organised by the Hong Kong Trade Development Council (HKTDC), in association with the Hong Kong Jewellers' & Goldsmiths' Association, the Hong Kong Jewellery & Jade Manufacturers Association, the Hong Kong Jewelry Manufacturers' Association and the Diamond Federation of Hong Kong, China.