Macy's to roll out four new fashion brands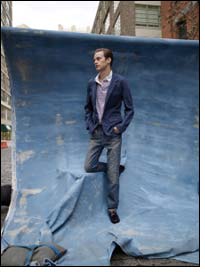 As a leader in bringing exclusive distribution lines to consumers, Macy's will roll out four new fashion brands and two home line expansions this spring. From couture to celebrity designers, the new collections will include:

Ellen Tracy - women's better sportswear that is modern and aspirational
Threads & Heirs - men's casualwear featuring a capsule collection by couture designers Ruffian
Kouture by Kimora - of-the-moment looks for young trendsetters
mstylelab - fashion jewelry and hair accessories for the young contemporary shopper
Vida for España by Eva Mendes - brand extension to casual Latin-inspired dinnerware
Martha Stewart Collection - brand extension to mattresses with styles in multiple comfort choices

The new collections will begin arriving in select stores in March and April, and represent the newest examples of outstanding fashion goods at a great value, available only at Macy's.

Also, just announced for fall 2010 is an exclusive strategic alliance with Kenneth Cole Productions, Inc. under which Macy's will be the sole department store retailer of the new Kenneth Cole REACTION men's sportswear line within the United States and its territories.

"Customers come to Macy's for the best brands and the latest ideas in style. By adding Ellen Tracy, Threads & Heirs, mstylelab, Kouture by Kimora and Kenneth Cole REACTION men's (fall season) to our exclusive fashion assortments, and by extending into new categories within popular home brands Martha Stewart Collection and Vida by Eva Mendes - we are continuing to offer fresh and interesting merchandise that consumers won't find in other stores," said Jeff Gennette, Macy's Chief Merchandising Officer. "This spring represents one of our strongest seasons of exclusive launches ever."

New exclusive fashion brand launches

Ellen Tracy

Beginning this March, notable fashion brand Ellen Tracy will begin selling exclusively in 105 Macy's stores nationwide, with an additional 45 stores to be added in the fall. For the first time, this aspirational fashion brand will offer chic, modern separates at a more affordable price. With everything from glamour pieces to the covetable white shirt, the new line for Ellen Tracy delivers fashion that is fit flattering and lifestyle friendly.

Inspired by the everyday woman, the new Ellen Tracy collection represents designer product that addresses the modern woman's need for dynamic pieces. Designed for a self-assured, independent and spontaneous female, each piece represents a different part of her life. Striking the perfect balance between youthful attitude and grown-up glamour, the Ellen Tracy customer can create a whole wardrobe from this collection. Key items will include your basic white shirt, leggings, slim pants and tunic dresses. Living in the Macy's better sportswear section, Ellen Tracy will fill a gap between Macy's private brand and bridge classifications. The Ellen Tracy collection will be available in select Macy's stores and on macys.com.