Freshness at the GenNext show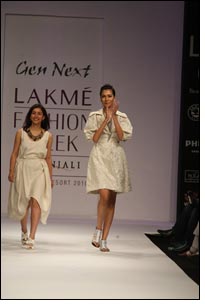 Gen Next proved at Lakmé Fashion Week Summer/Resort 2010 that the business of fashion will move at breakneck speed with their extreme creativity.

Pooja Kapoor
"Nip and Tuck" was the title of the collection by Pooja Kapoor and the designer proved her expertise with layers for chiffon dresses, very free flowing and relaxed in silhouettes for summer wear. Pleating details appeared on shoulders while cowls on jersey necklines with pin tucks added to the glamour of garments. Dhoti draped skirts, asymmetrical jackets and wrap around dress and summer coat with voluminous sleeve interest added to the charm of the collection which was high on construction but utterly feminine to behold.

Sabah Khan
For something very funky, quirky and wacky, Sabah Khan showed a colourful cotton collection of separates with prints of women on the blouses, skirts and dresses as the focal point of the line. Colour blocking played an important part of the sun dresses which were often teamed with churidars or pants. While appliqués added excitement to the long bubble tops with maxi bias skirts. Patch work also came into the collection which at times had the retro French musketeer influence or a touch of harlequin fun aspects.

Sandeep Sarkar
Showing a pure prêt line of white with touches of shaded green and yellow for breezy summer wear, there were touches of sheer and opaque in the layered creations by Sandeep Sarkar. Pastel colours with delicate embroidery added to the feminine charm of the garments as chiffon, organza, net and voile was turned into shirts, blouses, cool jackets and tiny shrugs. A great mix and match look for summer that could sell well.

Siddhartha Upadhyaya
Calling the collection "As you Like It" Siddhartha Upadhaya allowed the wearer to choose between the regular or upside way of wearing his creations which gave two options for the price of one; as all the eight creations were completely reversible. Red, blue, rose, grey, white for fabrics like satin and silk had intricate detailing on one side while the reverse showed another look of the dress. Net edged some of the hems, while fan shaped fringes added interesting detailing to the will-power edges of the cocktail creations. A very interesting line in these days of recession.

Sougat Paul
Swirls of fabrics, appliqués, tonal embroidery was cleverly used for summer skirts and dresses and innovative texturing which gave the collection by Sougat Paul a very highly crafted extreme look. Shades of purple, maroon, beige, and cream, satin and silk were meticulously crafted. The detailed origami touches and 3D texturing of fabrics for all the women's wear was beautifully done in an unconventional and dramatic manner. Here was a collection ideal for cocktail glamour.

Sukhwant Buttar & Aastha Sharma
Called "Auction of Humanity" and the inspiration from the slaves of Africa the eight garments by Sukhwant Buttar and Aastha Sharma was a story in grey, beige and black for silhouettes which were a mix of lean and slim with wide and voluminous along with touches of the bondage look and detailing like gathers, cowls and strapped belts. The fabrics were coarse and slubbed with frayed seams to give a rustic look to the garments. It was a stylish collection with a touch of the contemporary. Short balloon one shoulder dress, a dress with interesting knife pleats, asymmetric cuts in skirts and a one loose batwing sleeve flared dress will make good conversation pieces in fashion.