Igor Galas scoops top prizes at iD Emerging Designer Awards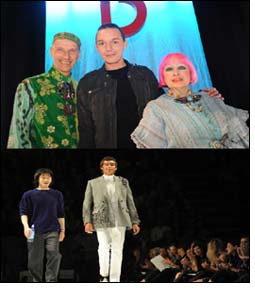 Igor Galas, graduate of the Faculty of Textile Design, Zagreb, Croatia, with his collection Protector from Knitted Galaxy, thrilled audiences at tonight's iD Dunedin Fashion Week Emerging Designer Awards and takes home the Life Pharmacy top prize of $5,000. Igor Galas has also been awarded the ever-popular Mittelmoda prize, which allows him direct entry to show at Mittelmoda in Italy.

The judges said Igor's collection had a strong, cohesive theme and demonstrated a great range of skills, including the traditional handcraft of knitting.

Key points
Ryota Shiga, Sugina Fashion College, Japan, won the Dunedin City Council second place and $3,000, while Ichiro Suzuki, London College of Fashion, UK, was awarded the Mild Red third place and $1,000.

Winner of the inaugural Golden Centre jewellery design award and $1,000 is Paula Kyle Walden, from Queensland University of Technology, Brisbane, Australia.

A three-month residency at the Dunedin Fashion Incubator was awarded to Brooke Fairgray from Whitecliffe College of Art and Design, Auckland for her collection It's What You do to Me.

Sandra Tupu, Auckland University of Technology, won the $2,500 Otago Institute of Design Sustainability Award. Sandra's collection brings a fresh approach to contemporary Pasifika fashion and explores the reconnection to her roots through the use of recycled natural fabrics, including old blankets and antique flour bags.

The Pacific Blue Emerging Designer Travel Prize was awarded to Otago Polytechnic graduate, Laura Marshall. The Pacific Blue Lucky Boarding Pass draw including two return flights to Brisbane went to Geoff Schaumann from Dunedin.

Glenn Yungnickel, with his collection In the Red, won the Pulp Magazine "Pulp Fashion Culture Award" which secures him an editorial spread and a one-year magazine subscription.

Judges for the 2010 Emerging Designer Awards were: Zandra Rhodes, international fashion designer; Stefano Sopelza, Mittelmoda Fashion Award Project Supervisor, Italy; Katie Newton, fashion and beauty editor of the Sunday Star Times, Sunday Magazine; and, Isaac Hindin-Miller, fashion blogger. Judges for the jewellery section of the Awards are: David McLeod, Dunedin sculptor and jeweller; and, Andrew Logan, international sculptor and jewellery designer.

iD Dunedin Fashion Week culminates with two spectacular fashion events, with tickets still available to the iD Dunedin Fashion Show at the city's captivating railway station now over two nights on Friday 12 March and Saturday 13 March.

Quotes
Igor Galas, Faculty of Textile Design, Zagreb, Croatia
"My collection is my dream of a Protector who will come from the knitted galaxy and save the earth from the phenomenon of global warming. My dream is linked with the fact that wool, and only wool, has the characteristic of being warm in winter and cool in summer. This is the balance that is needed so that the Earth can move forward and be green and beautiful. When I heard that the Emerging Designer Awards was one of the best competitions I decided to do everything to make sure I secured a spot!"