Warner & JCP create deal for Supergirl by Nastia line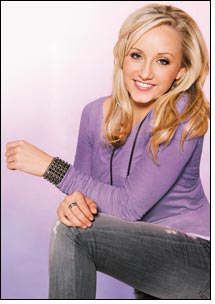 Warner Bros. Consumer Products proudly announced it has partnered with five-time Olympic medalist Nastia Liukin to create Supergirl by Nastia, the first-ever lifestyle merchandise line of its kind for girls available at a major retailer. Supergirl by Nastia will feature trend-right, affordable apparel that encourages a message of empowerment, creativity, strength, intelligence and independence – the symbolic attributes of the iconic Supergirl S-Shield. The collection, created for today's 8-12-year-old girls, will be available exclusively at JCPenney in stores and on jcp.com beginning July 20, just in time for the back-to-school season.

An Olympic all-around champion and one of the most decorated American gymnasts in the history of the sport, Nastia Liukin is a shining example of the Supergirl brand—an aspirational spokesperson who believes that with hard work and commitment to a dream, anything is possible. Liukin embraces being a mentor and a positive role model to girls.

"I am so proud to be partnering with Warner Bros. Consumer Products and JCPenney to present to girls and moms the Supergirl by Nastia line, which I believe represents not only a fashionable and affordable option, but also communicates an important message of empowerment," said Liukin. "The Supergirl S-Shield is a unique and iconic symbol that has inspired this collection. I believe it will do the same for girls who wear it."

The collection will include active fleece, dresses and tunics, knit pants, signature Supergirl tees, dancewear, fashion leggings, shrug tops and more.

"The Supergirl S-Shield is embraced the world over as a symbol of girl power," said Brad Globe, president, Warner Bros. Consumer Products. "From 'fashionistas' to 'actionistas,' a Supergirl is today's girl and we are proud to be partnering with Nastia Liukin and JCPenney to bring the Supergirl by Nastia line, and its message of empowerment, to life at retail for all girls and their parents.

"Supergirl by Nastia provides our customers an affordable and accessible clothing brand that embodies Nastia's strong, active and independent lifestyle and we look forward to introducing this brand to our customers this back-to-school season. Fashion is a great way for young girls to express their confidence and individuality and this line will send them back into the classroom in an empowered way," said Clark McNaught, senior vice president and general merchandise manager of JCPenney's children's division. "The launch of Supergirl by Nastia underscores our commitment to deliver stylish, affordable brands that respond to the needs of our customers. And as the exclusive retailer of this exciting new brand, it provides yet another compelling reason for customers to shop with JCPenney and strengthens our position as a leading destination for children's apparel."

Supergirl by Nastia will be supported by a robust marketing rollout, from circular advertising, direct mail and integrated social media to in-store promotions and appearances by Liukin across the country, all launching later this year.