Wills Lifestyle's successful 'Ramp to Rack' initiative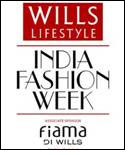 The Wills Lifestyle India Fashion Week is the only serious business platform for professionals in the Indian fashion context. WIFW acts as a facilitator between the India designers with international and domestic media as well as buyers.

Wills Lifestyle India Fashion Week has been scaling new heights, edition after edition. There is great synergy in the association of our premium lifestyle brand Wills Lifestyle with the event and we look forward to further strengthening the strong and deep–rooted partnership that we have established with the fashion fraternity.

This is Asia's biggest B2B fashion and India's premiere fashion event with over 100 participating designers every edition and increasing number of buyers both domestic and international.

Designer–wear so far seen on the ramps and appreciated for its distinctive creative edge has been out of reach of consumers at large because of its limited distribution and inaccessible pricing. In the last quarter of 2006, this began to change with the roll-out of Wills Lifestyle India Fashion Week line that offers consumers across the country, designer-wear for their wardrobes.

This is the largest ever initiative in the Indian fashion industry to take designer wear to consumers, offers a choice of aspirational yet wearable designs at accessible price-points through a nationwide network of stores. It is a proposal that has been welcomed by consumers.

Wills Lifestyle partners with leading designers to create the grand finale collection of the Wills Lifestyle India Fashion Week and subsequently the collection is launched at its stores.

The first edition of exclusive Wills Lifestyle India Fashion Week line of prêt and diffusion designer-wear featuring the creations of leading designers Rohit Gandhi – Rahul Khanna and Monisha Jaising, was launched in November 2006 called the Signature Line.

For the Indian designers, partnering with Wills Lifestyle is a win-win proposition. They are not restricted in reach to select patrons, but can leverage Wills Lifestyle's strong retail presence and access a much larger premium consumer base across the country. The designers stand to gain from Wills Lifestyle's deep understanding of the premium consumer's tastes and preferences in the prêt fashion market.

We have received an enthusiastic response for the Signature line. This collection already constitutes about 15% of our sales. The Signature line has been welcomed by not just our existing consumers - close to 50% of purchases of designer wear at our stores have been by consumers who visited our stores the first time. Fashion awareness and aspiration with respect to designer wear now goes beyond the top 2 to 3 cities to such cities as Kolkata, Hyderabad, Pune, Ludhiana and Chandigarh.

Indian consumers are becoming more aware of fashion due to the international media and travel opportunities. They wish to express their individuality and are moving away from mere price benchmarks to aesthetics that provide differentiation and exclusivity. This is not just in the metros but also in other smaller cities.