WATCH IT! inks deal with NASCAR driver Joey McColm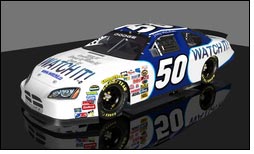 Canadian watch retailer, WATCH IT! is proud to announce their partnership with NASCAR's youngest star, Joey McColm for this summer's 2010 NASCAR Canadian Tire Series taking place in six provinces across Canada.

The nation's top boutique watch retailer, WATCH IT! has been helping Canadians keep time since 1999. Today, WATCH IT! is known for their stylish watches, sunglasses and accessories, and above all, impeccable service. WATCH IT! President Darren Bondar is thrilled at the new partnership, "Our customers are fresh, fashionable and live life in the fast lane. Supporting NASCAR's most promising young star, Joey McColm couldn't have been a better fit or come at a better time." Within the past year, WATCH IT! has launched three new retailers across Canada growing the business exponentially despite the tough economic environment.

At the ripe age of 24, Joey McColm is not only the youngest driver taking part in NASCAR Canada, but is also one of the most ambitious, "It's sponsors like WATCH IT! that allow me to continue to do what I love. I look forward to being WATCH IT's ambassador at the NASCAR Canadian Tire Series this year. Their story of entrepreneurship, growth, and dedication to its clients is inspiring for me as an entrepreneur myself. I am very proud to sport the WATCH IT! brand at this summer's NASCAR races!"

With Atto Insurance and Dodge as existing partners, WATCH IT! will hold the presenting sponsor position for Edmonton, AB, Vernon, BC, and Saskatoon, SK and will maintain a primary sponsorship position across the Ontario and Québec regions with their fully wrapped Dodge Avenger powered by carbureted V8 engines traveling through every stop on the tour.

In its fourth year, this summer's 2010 NASCAR Series promises to be an exhilarating event with 13 dates at 13 of the country's top racing tracks across six provinces, with the addition of a new-shared date with the Indy Car Series in Toronto. Close to 7 million fans in Canada alone will watch as Joey McColm and his team, "Team 50 Watch It! Nation" goes for the gold!

WATCH IT!